Inside
Samsung
Design
Our Workplace, Our Culture
This is a key visual image that combines illustrations on Samsung Electronics' campus.
Being Creative
Together
Designers propose innovation through creative designs based on a deep empathy for people. Stemming from new perspectives and a broad mindset, the strengths of designers include breaking boundaries, approaching the context of a problem, and finding solutions with creative ideas.
Samsung Design provides a flexible environmental foundation to maximize the designer's strengths. This flexible and carefree space awakens inspiration, a diverse education program nurtures professional competence, and a creative mind leads to voluntary activities and culture. Let us introduce the environmental and cultural foundations in which Samsung Electronics designers grow together and continue to challenge themselves.
COMMUNICATE OPENLY
AND FREELY
Better designs are produced when ideas are shared freely, and creative inspiration emerges with a relaxed body and mind. The design space of Samsung Electronics is created to facilitate smooth communication with colleagues and allows flexible thinking through relaxation.
It's an image that combines illustrations on Creative Workshop Place.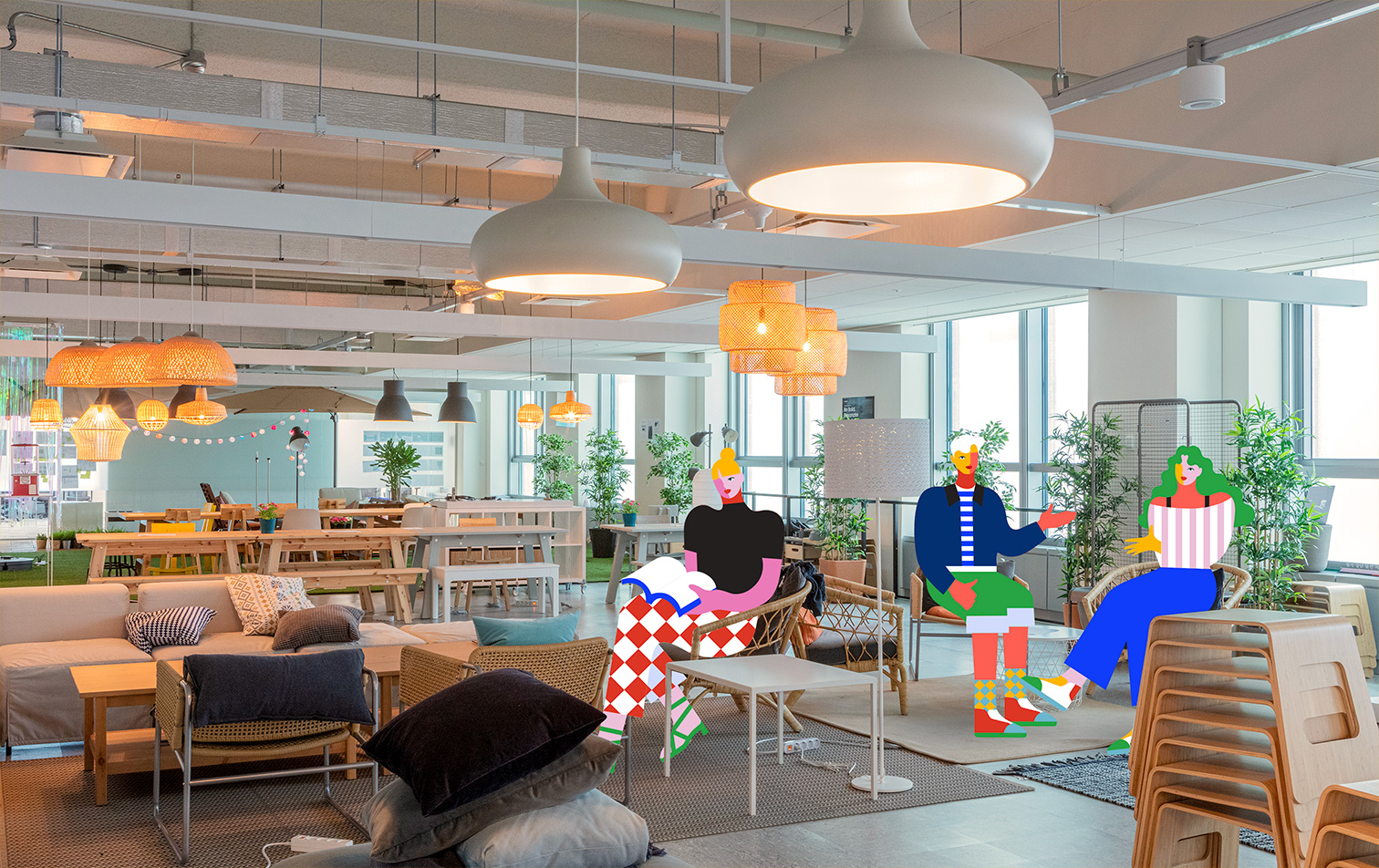 Communication Area
The C-core communication area is constructed with arrangements of stairs to allow free movement between building floors, which reflects the idea of Samsung Design for open communication. It allows easy communication with colleagues in a comfortable atmosphere rather than a rigid space. Completed with wooden chairs, a green lawn, and sofas between study rooms, the design lounge allows reading, brainstorming, generating ideas, and sharing opinions in the most comfortable environment. The R&D campus also includes a creative workshop space in the center of the office. Simply conduct an idea workshop while freely working and moving.
Refreshing Zone
Designers who generate creative ideas everyday also need time to quietly reflect on their thoughts and recharge. Designers can take a break with game consoles and comfy sofas provided in the design playground. A fitness center is available for physical fitness and relaxation, as well as various amenities such as banks or daycare center.
AWAKEN INNER CREATIVITY
Design competency deepens through various experiences, trials, and explorations. To help designers accumulate rich experiences through various tasks, Samsung Design provides various facilities for demonstrating expertise.
This image is a combination of illustrations in the sound studio.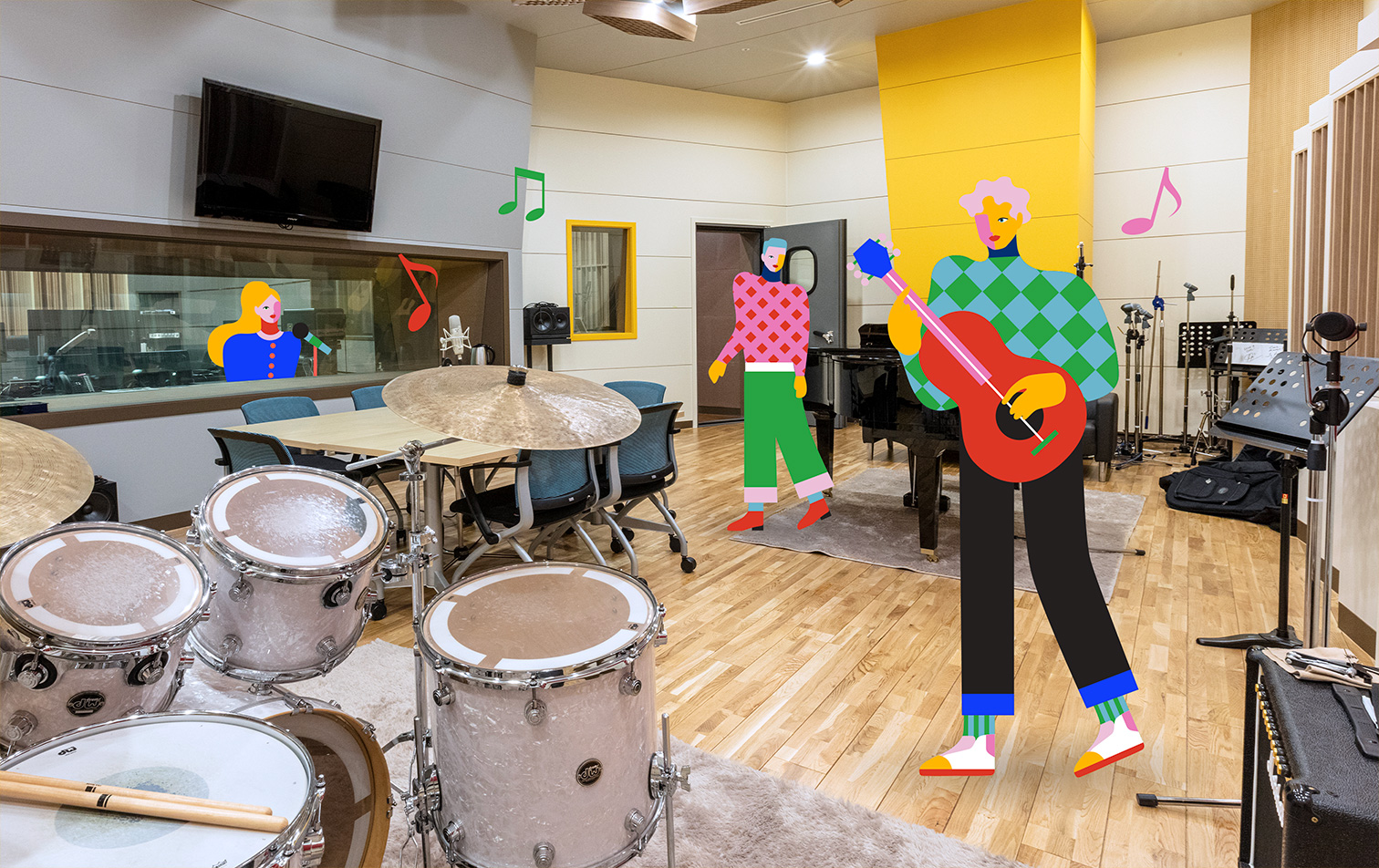 Expertise Lab
Samsung Design provides various information and facilities for designers to actively develop their expertise and capabilities. The design library provides information and insights through books related to professional design. Equipped with various instruments and recording spaces, the sound studio is for designing sounds used in various Samsung Electronics products. It also provides an environment where designers can demonstrate their abilities.
The CMF lab offers access to various materials such as fabric, recyclables, and metal. The discovery room, which resembles a real home, is used to analyze and observe how users utilize Samsung Electronics products. Built with a prototyping room where prototypes can be tested, the photo studio offers camera and lighting equipment for shooting mock-up products.
BROADEN YOUR PERSPECTIVE
Samsung Electronics believes the more designers experience a wider world, the more they could impress consumers. Therefore, we provide educational opportunities through specialized training programs and seminars.
This image is a combination of design seminars and illustrations.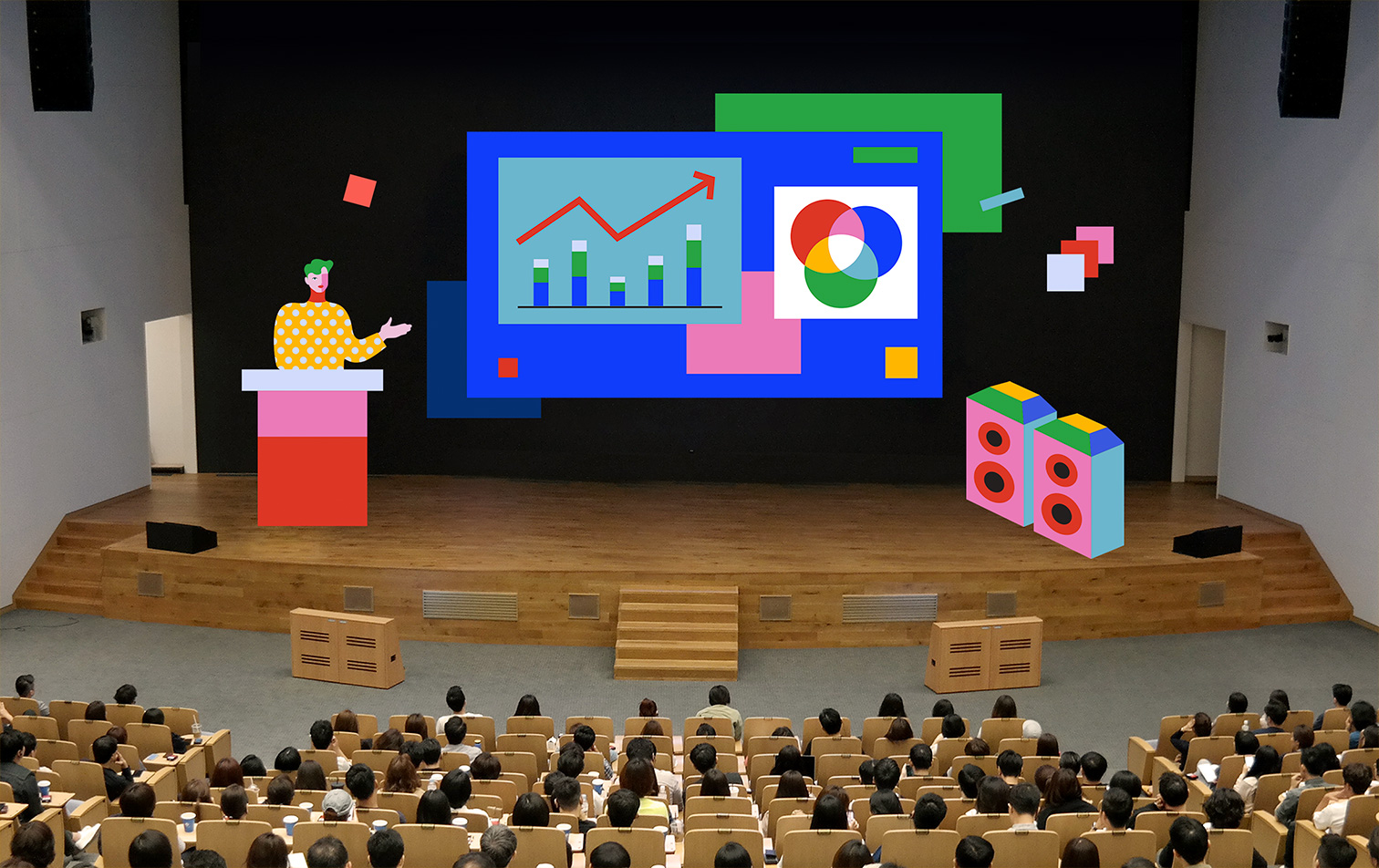 DPP Program
To help designers broaden their visions and gain global competitiveness, educational programs are provided. The DPP (Design Power Program) is an educational program linked with prestigious schools, such as Stanford and Carnegie Mellon, with companies abroad and offers opportunities from short-term courses to a master's degree for the desired field.
It is an image that combines illustrations on the university campus.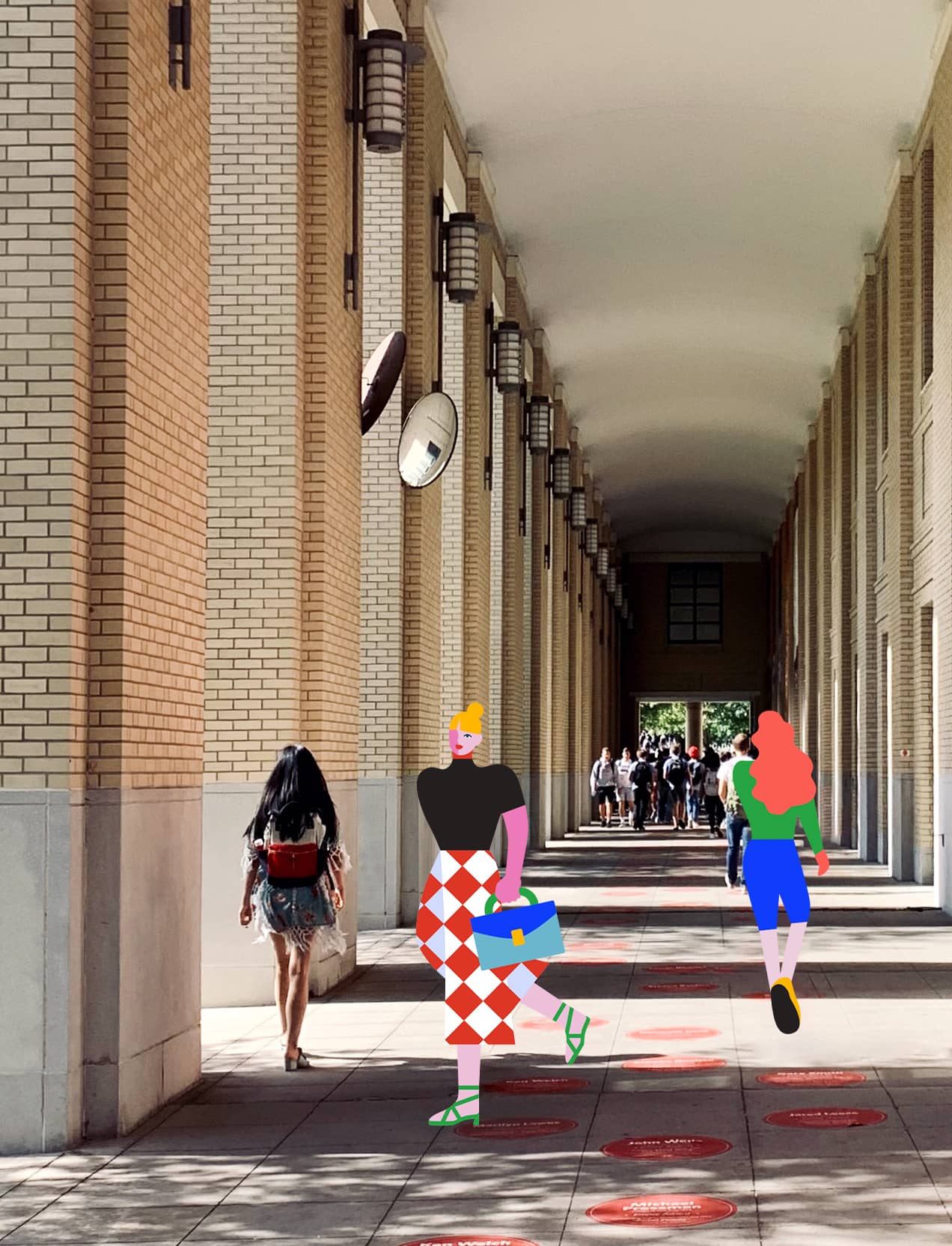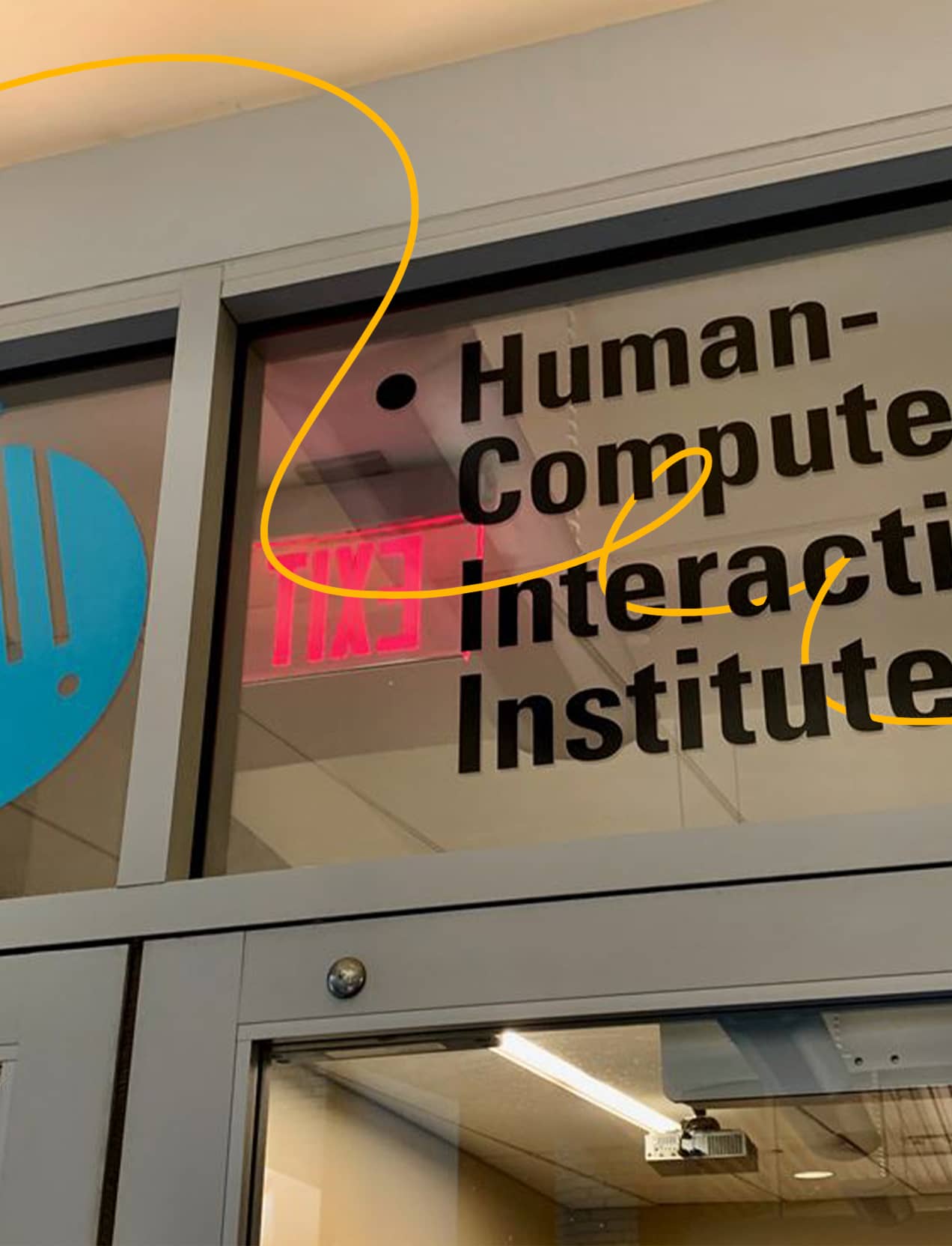 This is the image of the design seminar.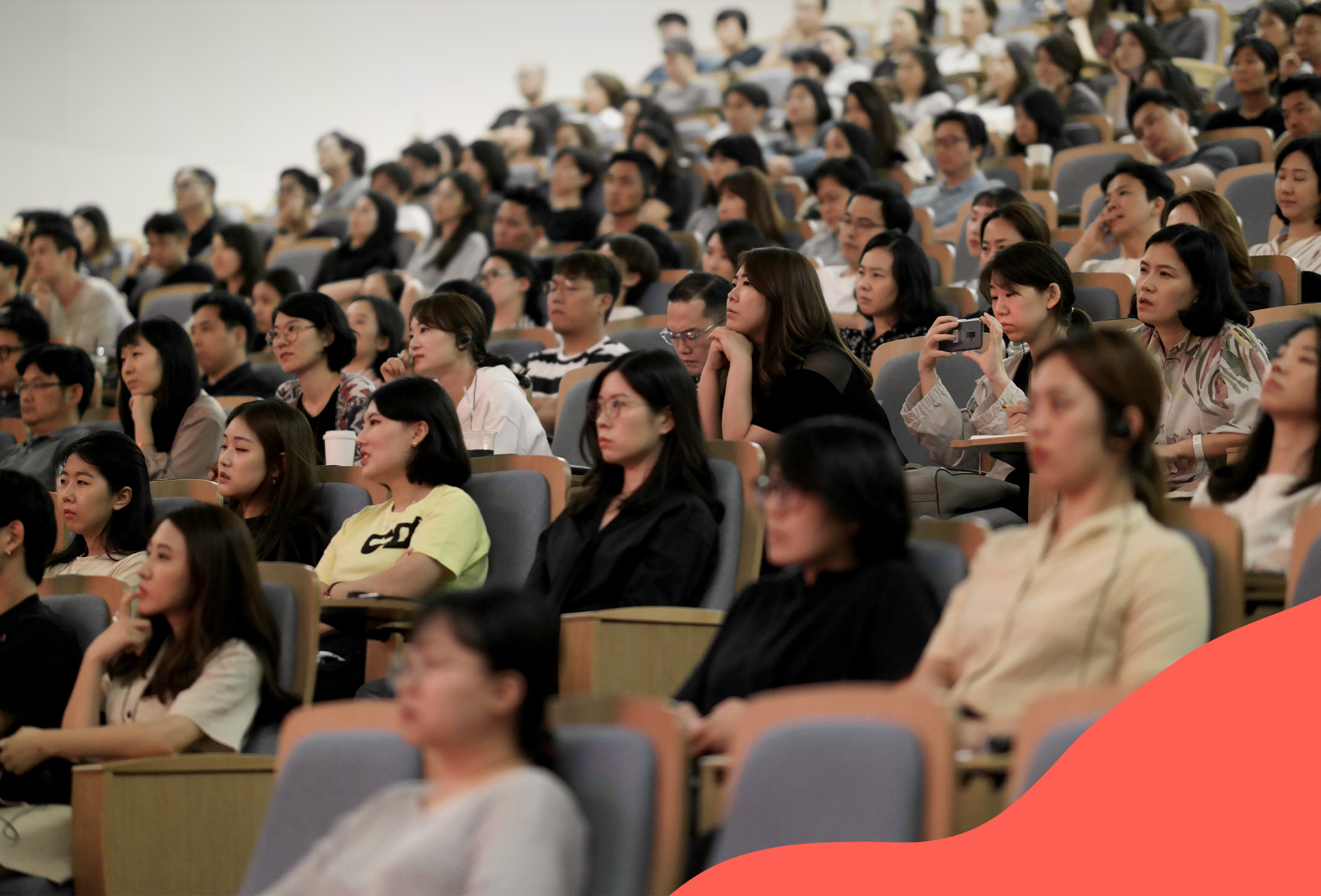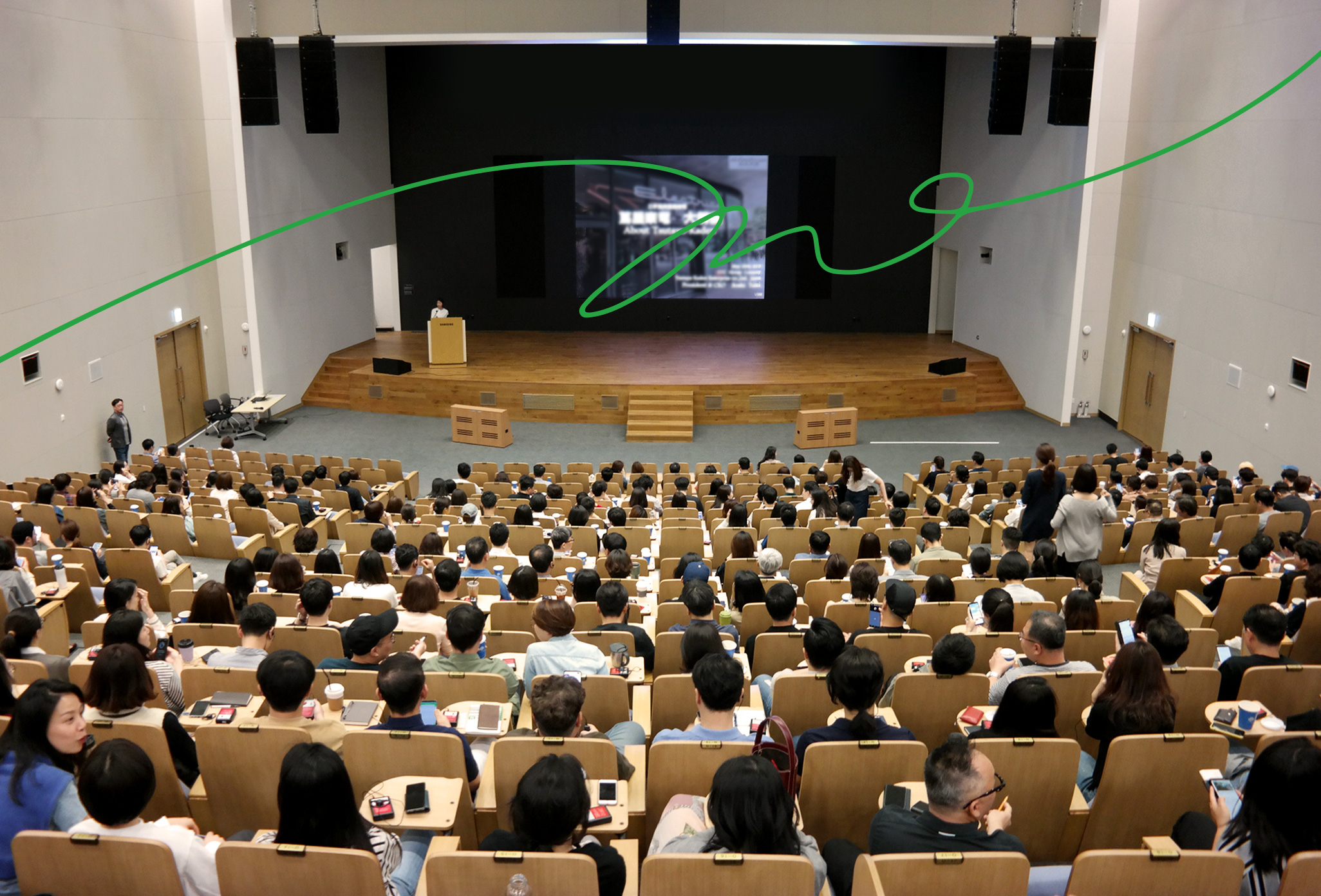 Design Seminar
Samsung Design develops the ability to break boundaries of thinking in everyday life through periodic design seminars. Experts from various fields such as design, humanities, and engineering are invited to provide insight for designers to reflect from various angles.
Design Thinking Workshop
Design Thinking workshops are conducted for solving problems and consumer-oriented reasoning. The process consists of thinking like consumers, presenting various problems and ideas, and finding solutions. Through this process, designers are developing a diversified and in-depth understanding of the consumers' standpoint.
LEARN TOGETHER,
GROW TOGETHER
The flexible and creative mindset of Samsung Electronics designers leads to a voluntary organizational culture. We are creating a culture of mutual growth by independently seeking insights, sharing information, and deriving solutions.
It is an image that combines illustrations in the library.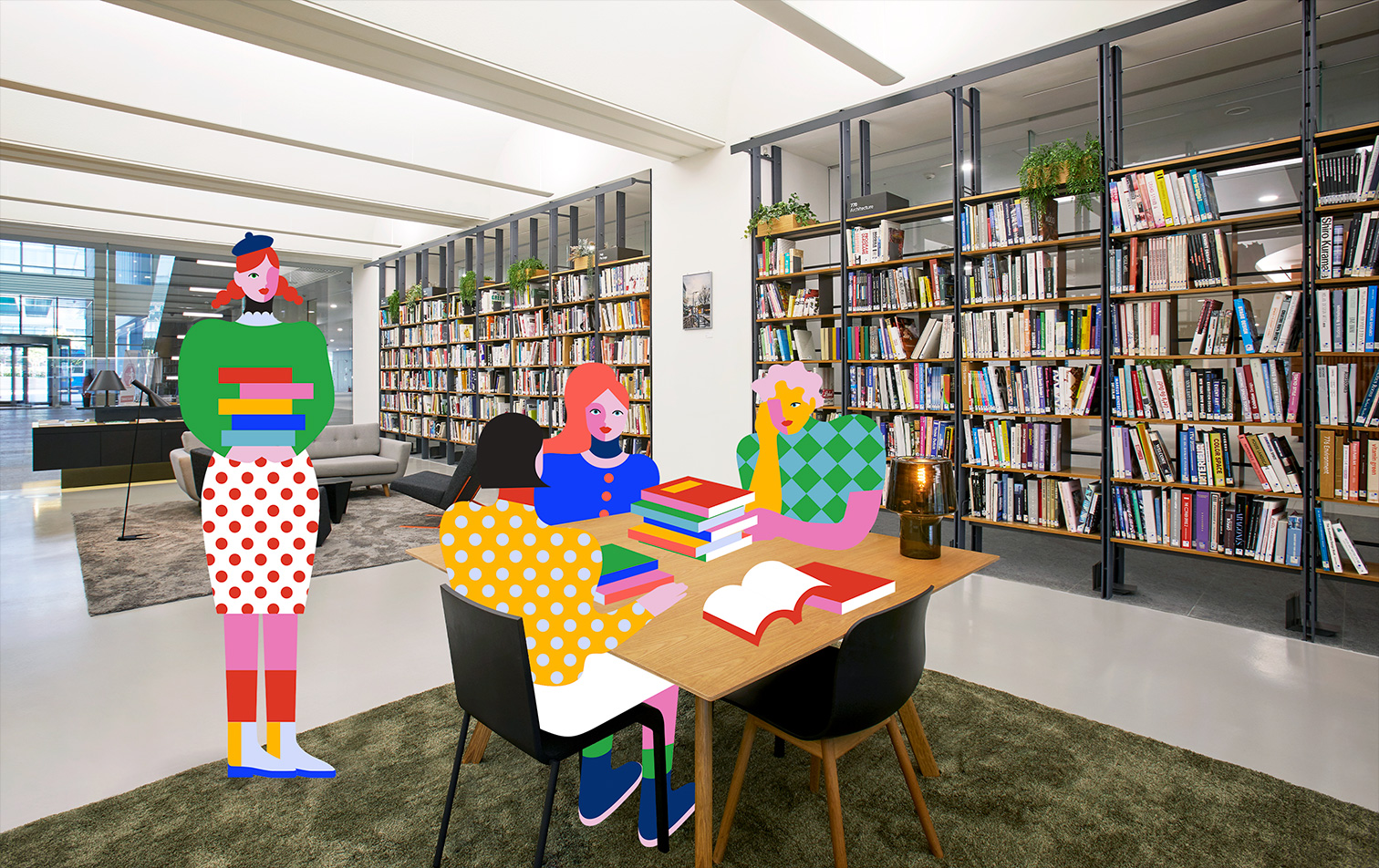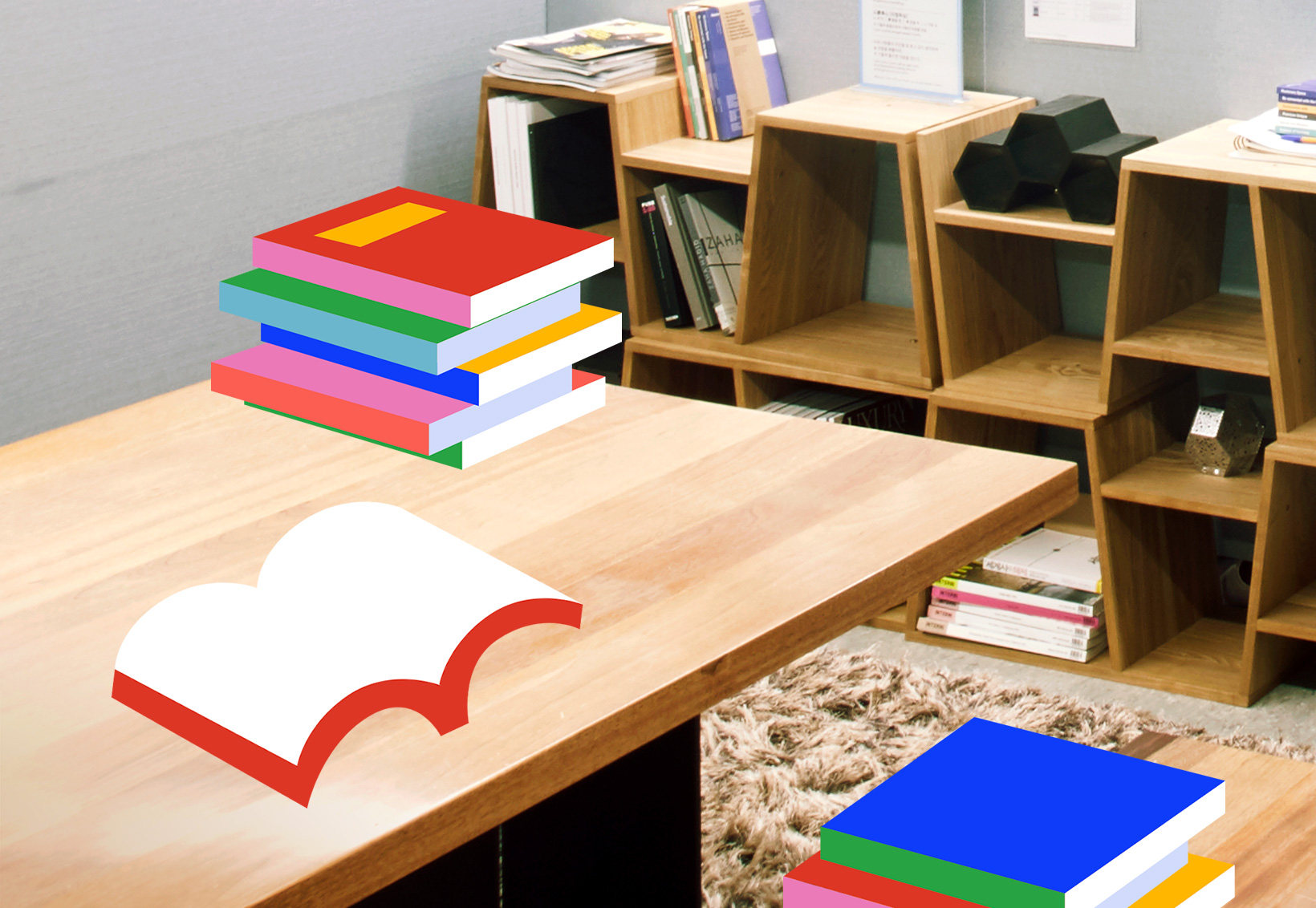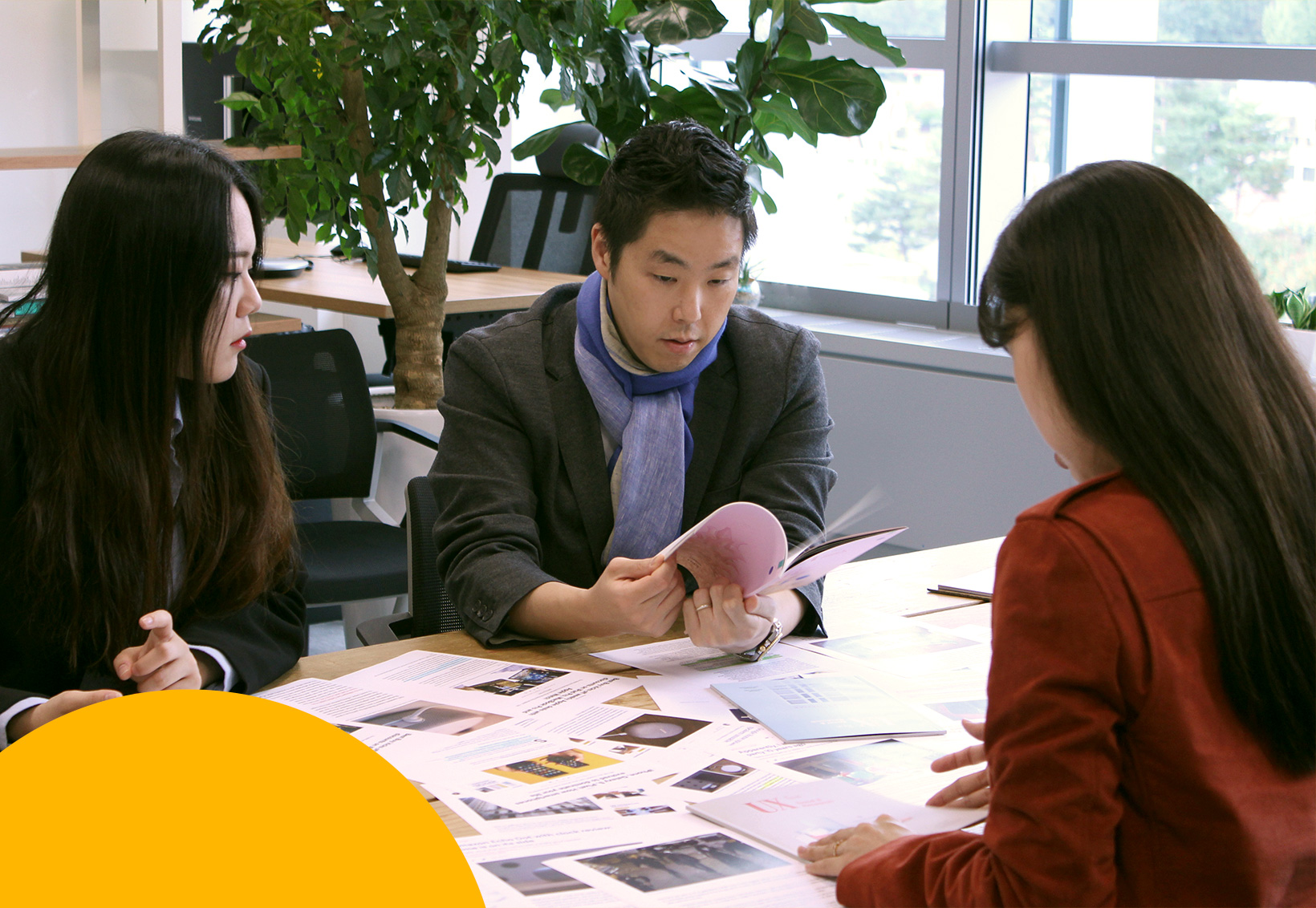 Monthly UX Trend & Research
An organizational culture that nurtures autonomy and creativity lead to independent activities. Established by a team formed with Samsung Electronics designers, the UX trend magazine is a representative case. A broad range of topics such as macro design, UX, lifestyle, and visuals are produced and distributed monthly in magazine format. Planning, production, and distribution are all performed independently, and encapsulate the creative views of the designer.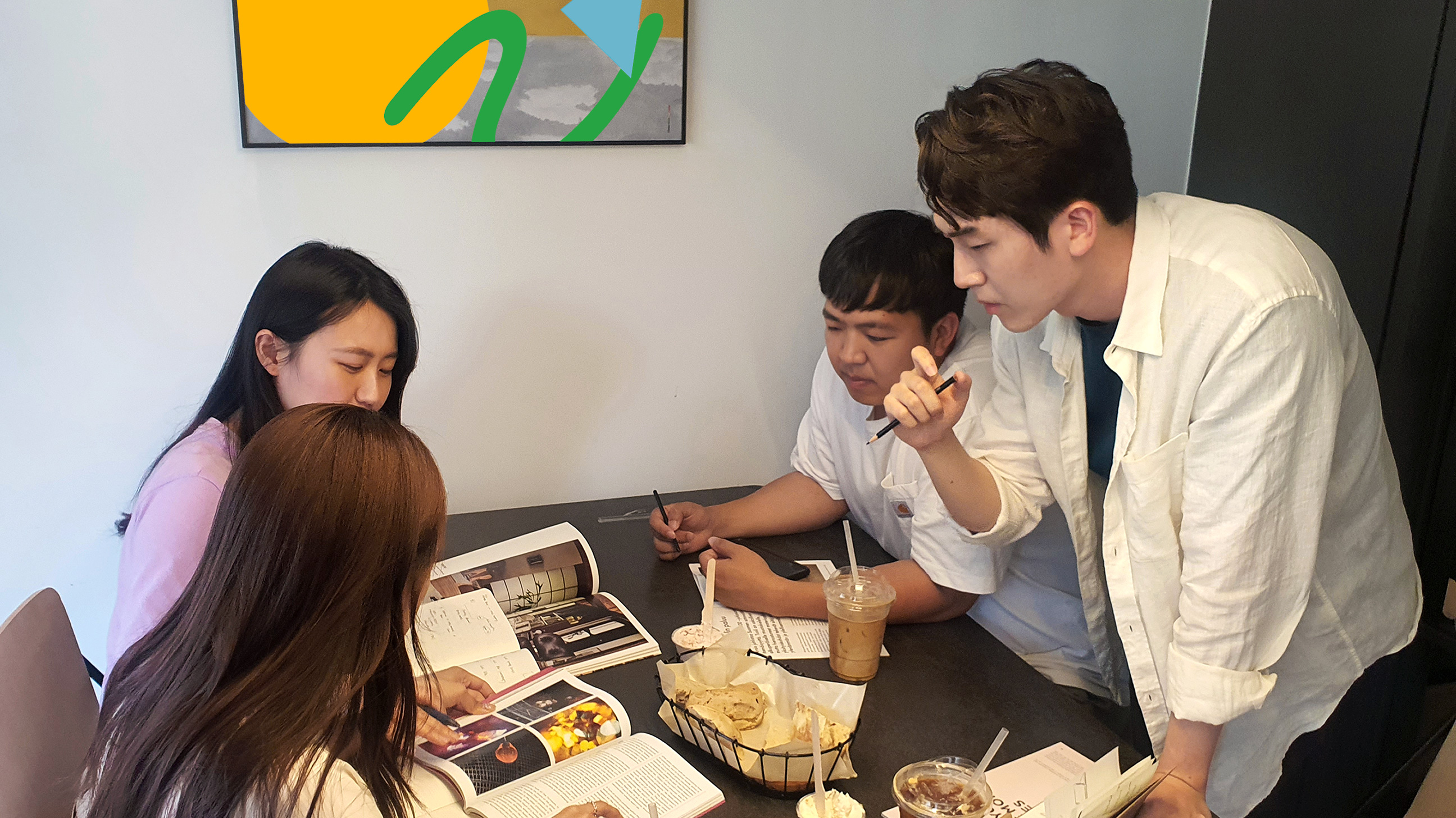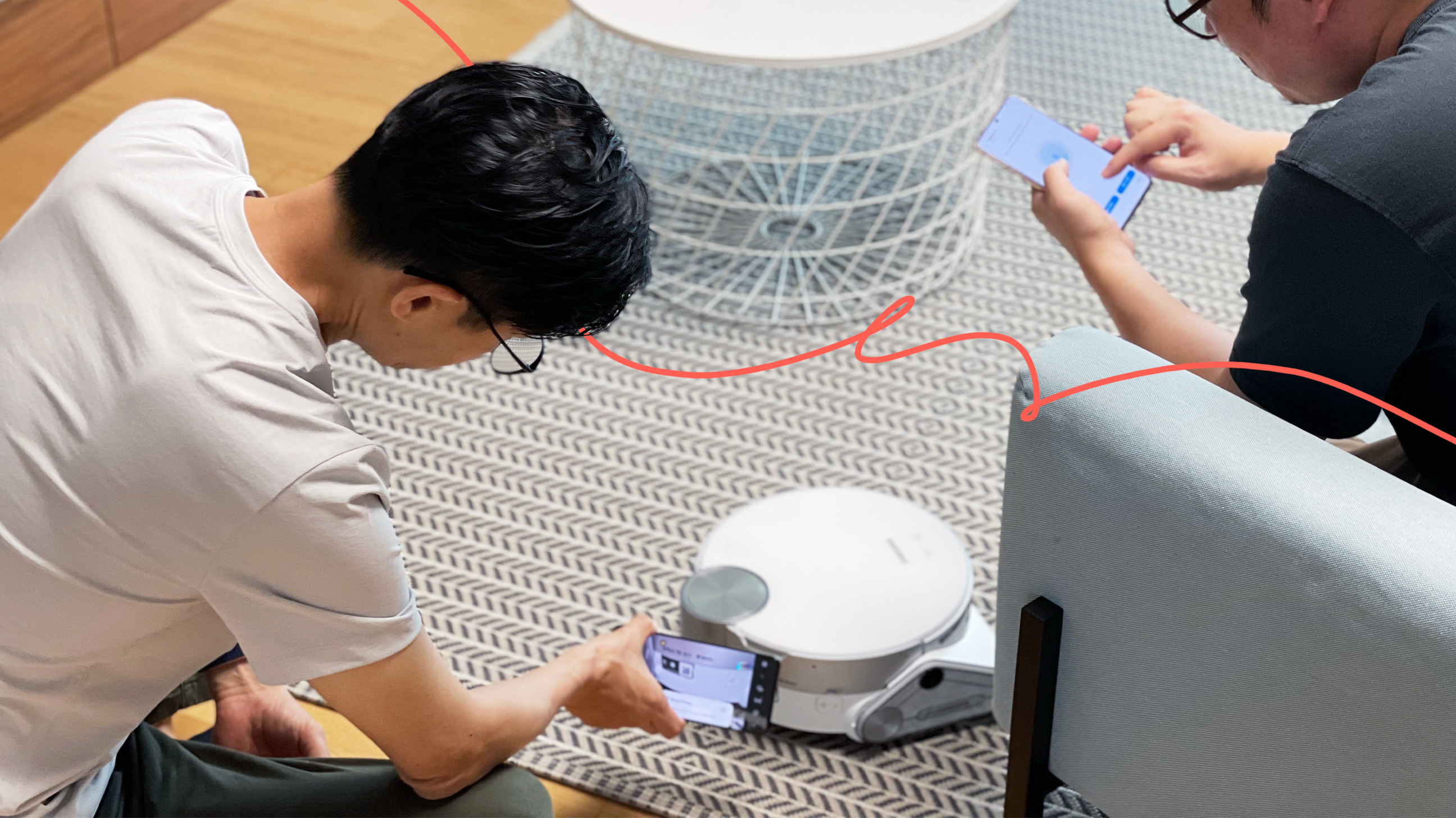 Customer Meetup
Samsung Electronics designers regularly collect user feedback to improve their designs. The activity includes interviewing users directly, conducting usability tests to derive key insights, and internal sharing and archiving in report forms. The philosophy of 'Inspired by Humans, Creating the Future' contains the designer's willingness to conduct user-centered design.
Creative Board
Samsung Electronics designers aim for a horizontal relationship by expressing their opinions freely and independently. The Creative Board is an activity that demonstrates this identity well. Consisting of diverse employees with the MZ generation at its core, the Creative Board members share their opinions on design and derive insights based on discussions to help inform the Business Leads to make the best decisions.
OPPORTUNITY IS EVERYWHERE!
To genuinely reach international consumers with a globally competitive design, Samsung Electronics has established seven global design institutes in Seoul, Tokyo, Beijing, Delhi, London, San Francisco, and Sao Paulo. Global design capabilities are created with Open Innovation through extensive design research in major cities across the globe.
CONTACT US
Samsung Electronics is constantly on the search for designers
who can join us in the meaningful process of transforming our everyday lives for the better.
* For those interested in Samsung Electronics' designer positions, please send us your resume to the email address above.
* When sending your resume, please download the attached Personal Information Collection and Use Agreement, fill it out, and send it together. (Checking the agreement check box, your name, date of birth, and signature are required in each consent column.)
* We will contact you individually if we have an open position that matches your interests and experience. If there are no open positions within two weeks of your sending us the resume, we will delete your email, resume, and any other information. We will not store or save any information we receive from you. (If the Personal Information Collection and Use Agreement form is not attached, your email will be deleted.)
* We will accept resumes from all designers with four years or more experience in related fields. However, for entry level positions, please refer to the Samsung Electronics career website (www.samsungcareers.com) for more information on the open recruitment held each year in March and September.
* Please note, we will not receive or review any ideas and proposals sent to us directly. This is to prevent any potential misunderstanding or conflict in case Samsung Electronics products, technologies, or services happen to be similar to your ideas, as well as to protect your own creative work and ideas. We hope you understand our concerns and refrain from sending any ideas including conceptual proposals to Samsung Electronics.
PDF Download