GLOBAL DESIGN STUDIO SERIES #2

SAMSUNG DESIGN CHINA

Ancient Cultural Heritage Meets Cutting Edge Economics,
Welcome to China

At the cusp of tradition and change, the entire world is focusing on the tenacity of this nation
and how they will emerge. Not only the rapid economic growth but the unique regional
and cultural characteristics of China are of great interest to the entire world.
Here at the heart of the dragon, Samsung Design China (SDC) in Beijing and Shanghai
seek the best in design performance as well as competing with other global design companies.
SDC Fuses China's Unique Culture with
a Cutting Edge Eye for Design

New market trends, cultural or regional policies, user feedback and recommendations as well as insights are all our agenda as we reach out to universities, research firms and design agencies for a collaborative effort to better understand China. Never with an outside-in perspective but as an insider on the ground who knows what and when things happen. Here at the SDC office, we've been tailoring smartphones, home appliance products, computers, wearable smart devices and IoT products to compliment this unique and bustling part of the world.

Bringing the Future Today through Our Products,
Starting Successful Business Opportunities

The potential market value of China is still unmeasured. To succeed in such a climate, staying ahead of the trends of the market as well as design is a must. We strive to become a company that the people of China will grow to love.
HISTORY
2

0

0

4

Samsung Design China founded
(Located in Shanghai)

2

0

1

3

Beijing UX Lab founded
(Beijing)

2

0

1

6

SDC Beijing Office established and merged UX lab
(Previous Shanghai office operates as a branch)
AWARDS
2014

Pentawards Bronze Winner

2015

Pentawards-sliver Award Winner

2016

iF Design Awards Winner

2019

IDEA Finalist Winner
iF Design Awards Winner
和爲貴 | Cherish Harmony

Nearly a quarter of the world's population lives in China.
With the rapid growth in their share of the global market,
everyone's attention is focused on China,
and China's vision is fixed on the future.
China is changing rapidly by incorporating cutting-edge technology
directly into everyday life. SDC works to discover various insights
and actively communicates with experts in diverse fields
to bring innovation in this

dynamic era.

Sungho Lee, SDC Head of office
OUR TEAM
SDC – Beijing Office
Design Innovation Team

SDC leads various activities contributing to
the business, such as proposing innovative designs
that target the global market based on local insight
and facilitating close collaboration between SDC,
Seoul Office, and local teams to enhance consumer
satisfaction.
In addition, projects on securing
solutions for innovative design proposals as well as
advanced development, research, and sensing are
carried out in Shenzhen.

UX Innovation Team

The UX Design team includes User Interface (UI)
and Graphic User Interface (GUI). Based on the
needs and behavior of the local user, we devise
useful UI implementation while working closely
with the local R&D center to better equip the
Galaxy series products to the China market.
SDC – Shanghai Lab.
Digital Appliance Design Team

The Digital Appliance (DA) Design team located in
Shanghai branch is immersed in research for cultural
and lifestyle trends. We look for meaningful insights
that may lay the groundwork for new innovations and
creative direction. We also seek to take those insights
and apply them to our home appliance product design.
OUR WORKS
Samsung Wallet

Samsung Wallet combines the functions of a bank card, electronic payment accounts (WeChat Pay, Alipay, JD Flash Pay), a transit card and a smart access card into one, providing a wide range of safe and convenient mobile payment experiences. It is very convenient to swipe up from the bottom of the screen to quickly launch the payment interface and select the card for payment under the statuses of AOD, lock screen, or home screen.

Samsung Smart Manager

Samsung Smart Manager is a systematic application that aims to take care of any device problem and provides a smooth and enduring device experience for Galaxy customers. With innovative products as its basis, Samsung Smart Manager will maximize and utilize the powerful ability of Galaxy devices as a personal intelligent advisor for users.

W23 Live Wallpaper, Logo Animation & Premium Watch Design

The China Premium Fold W23 wallpaper uses smooth lines and rounded block surfaces to form a pair of 3D ceramic wings as a metaphor of the social aspiration to embrace the world. In terms of the material, the porcelain texture inspired by the Song Dynasty's antique ceramic is used to show the eastern style of exquisite beauty. The overall color combination transmits a peaceful, elegant and tranquil feeling to the users.
W23 is the first debut of the live wallpaper feature in Samsung devices. User can control the playback of the wallpaper video by opening or folding the device, and the animation responds to user interactions in real time.

W23 Flip Live Wallpaper Design

The China Premium Flip W23 wallpaper is inspired by the undulating waves of giant clams(one of the four organic jewels), implying a box full of treasures. Starting as a natural shell, gold elements are included in the details of its folds and edges to foreshadow the wonderful contents once opened. The splendor of the interior forms a great contrast to the simplicity of the outside, which reveals the blooming jeweled flowers inside the shell when fully extended. These flowers are embellished with golden accents that bring out their elegance and agility to the utmost.
The China Premium Flip features a horizontal folding structure. With its dynamics consisting mainly of the two states of opening and closing of the shells and matching the movement of opening the Flip mobile phone, the wallpaper subtly alludes to the sensation of opening a treasure box.

A8S Product Design

The A8S features a unique and differentiated design that utilizes a gradient-based CMF combination along with the industry's first HID display equipped with a posterior triple camera. The 6.39-inch FHD frontal display and a thickness of only 7.39mm create a singular design that provides a comfortable grip. The design, development, and manufacturing of this product all took place in China, and is wholly representative of the design trends and consumers needs of the local region.

New Senior in China

China has just entered an aging society (since 2000) and the development of a senior-targeting market is still at an early stage due to insufficient understanding of the potential of a senior customer base. Elderly home appliances, which has not yet been well developed, will certainly become a place for all brands to compete in the future. Regarding the market trend, Samsung Design China is conducting advanced research and design projects to explore new opportunities based on senior consumer values and behaviors.

China Lifestyle Insight Report

China is one of the most important economies in the world, with a large population base with diverse lifestyles that create a huge and competitive market. Chinese consumers are also interested in new things, which makes it suitable for the verification and promotion of innovative products.
The potential market value of China is still unmeasured. To succeed in such a climate, staying ahead of trends in the market and design is a must. Samsung Design China conducts lifestyle insight reports on Chinese consumers to share insights to Samsung's headquarters for a better understanding of the Chinese market and consumers.

Global Millennial Design Language Study

This project is a transnational cooperative research project aiming to forecast design trends and design languages for 2021 and 2022 home appliances, with a focus on Millennial lifestyles. Based on a rigorous trends study, the research has analyzed and mapped home appliances' evolution for ten years, and identified strategic design themes from both global and local sides by forecasting emerging trends of 2021 and 2022 for Millennials. The results will be used to verify and guide basic designs for future digital home appliances.
SAMSUNG DESIGN CHINA, BEIJING

100020
21F, AVIC capital building, building 2, west side of
Dawangjing Park, CHAOYANG DISTRICT, BEIJING,
CHINA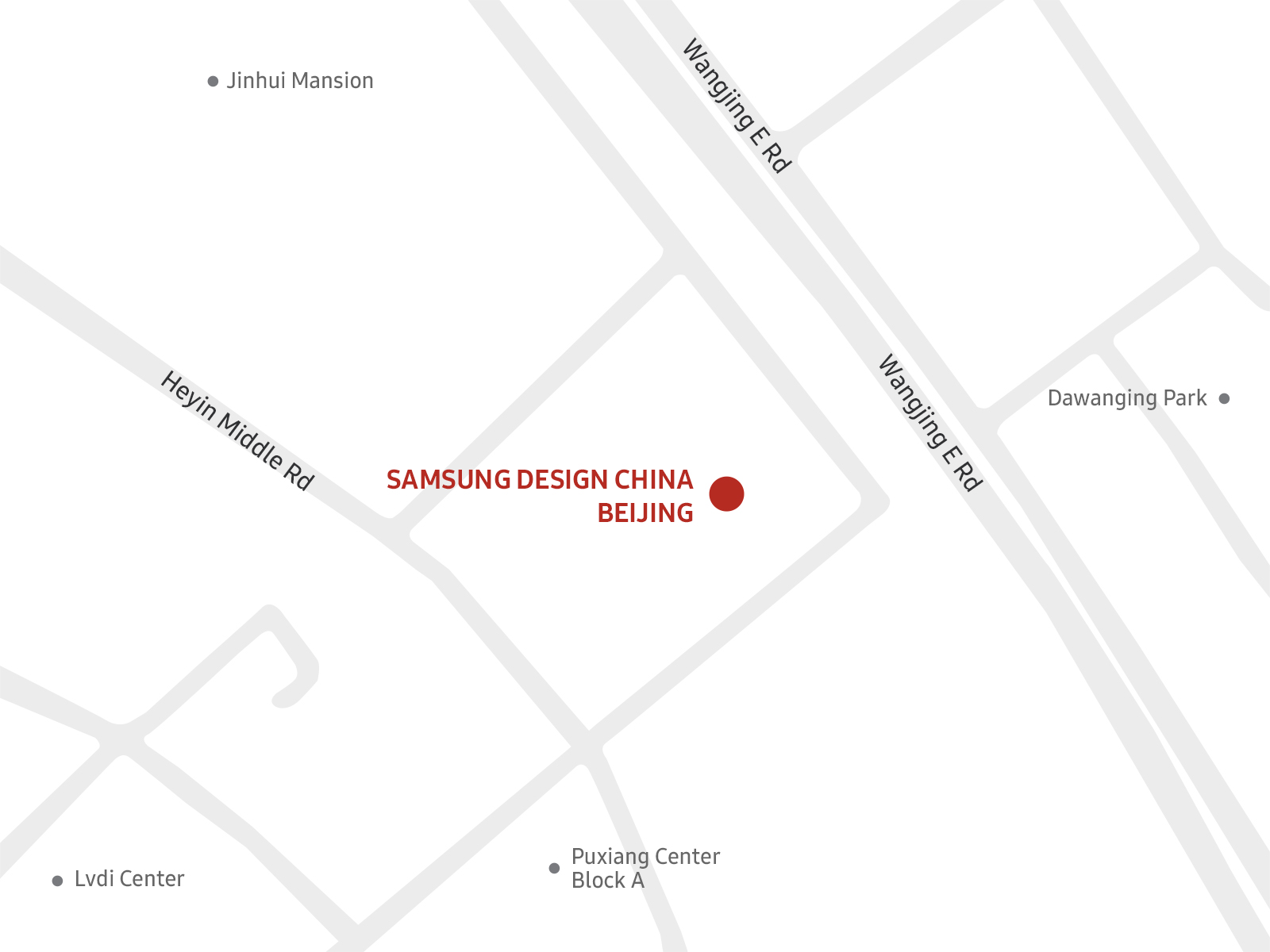 SAMSUNG DESIGN CHINA, SHANGHAI

200030
10F URBAN DEVELOPMENT INTERNATIONAL TOWER,
355 HONGQIAO RD, XUHUI DISTRICT, SHANGHAI, CHINA