An image of the San Francisco
GLOBAL DESIGN STUDIO SERIES #1
SAMSUNG DESIGN INNOVATION
CENTER

Jackson Square, San Francisco
where architecture office and design agencies
sit shoulder to shoulder. Among the crowd is
the Samsung Design Innovation Center(SDIC).
SDIC was started with the mind of creating innovation at Samsung Electronics 'at just the right time with the right people'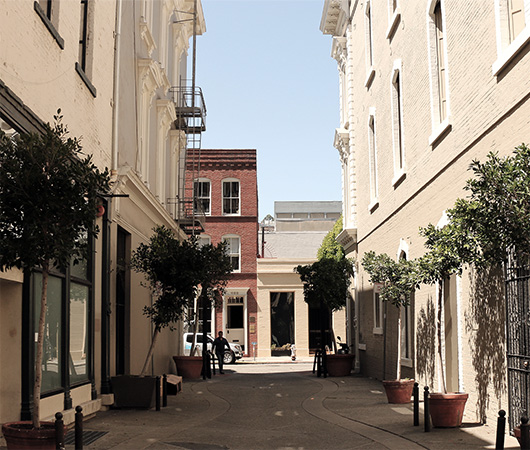 Creating the future with today's reality
Here at SDIC we oversee the entire gamut of the product development stage from end-to-end, strategy, user experience, design, prototyping, and engineering to create a new product or even a new product line. Also, working with experts in a diverse range of fields to read and forecast the latest trends and create new business opportunities. One of the prime objectives of the SDIC office is to open new opportunities for Samsung products. Bringing in exquisite hardware and software to service and lifestyle to create an ecosystem for new products to be introduced and thrive.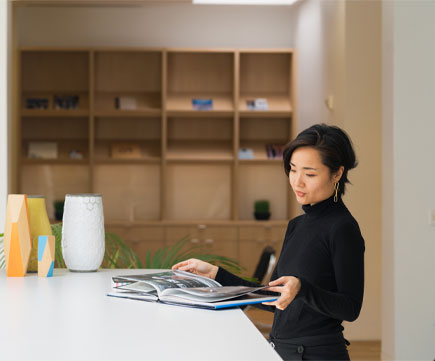 SDIC focuses on 'big changes' with real impact
This is why we chose the location as San Francisco to be at the epicenter of innovation and change. The Bay Area is known for its culture of innovation. It's a culture that embraces trial and error, that experiments and accepts failure. We want to tap into this culture to open new doors for tomorrow.
History
1

9

9

4

Samsung Design America founded
(located in Palo Alto, CA)

2

0

0

0

LA branch lab founded
(Los Angeles, CA)

2

0

0

8

SF office merged into LA office

2

0

1

2

R&D Design convergence merges
two offices to SF

2

0

1

8

Samsung Design Innovation Center
(SDIC) reshuffled (San Francisco, CA)
An image shows Center Leader of SDIC, Frderico Casalegno.
Our mission is to understand people and
lifestyles to deliver meaningful experiences,
through beautiful yet functional design,
enabled by innovative cutting-edge
technologies.
With a talented team of multi-disciplinary
designers, the SDIC will seek to leverage
insights from the North American
market and tap into the Silicon Valley
entrepreneurial spirit to design inspiring
products and experiences.
Federico Casalegno,
Center Leader of SDIC
Our Team
Product Strategy Team

The product strategy team takes new categories and defines concepts, develops business, collaboration and marketing research & support.

Industrial Design Team

The design and development of new products within new categories are the role of the industrial design team. They also produce mockups of newly developed products and maintain new SDIC product design specs.

UX Team

The UX Team drives innovation and creates disruptive user experiences. From ideation to prototype to final product launch to market, the team is in charge of all product development phases. The UX Team also leads and envisions future concepts, and develops products, technologies and ecosystem of services for these concepts.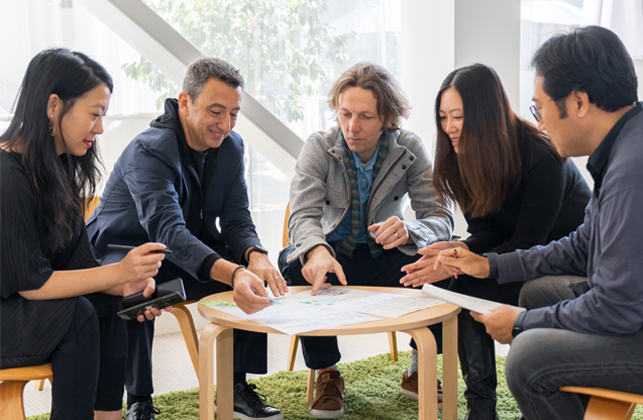 Our Works
GALAXY VIEW2

The GALAXY VIEW2 offers an unprecedented mobile viewing experience. The foldable 17.3-inch display improves portability and the Dolby Atmos quad speakers enhance content immersion. Its ergonomic handle provides convenience. Influenced by standard furniture, the design harmonizes with the home interior and allows the user to conveniently enjoy content anywhere.

GALAXY BUDS & BUDS PLUS

The GALAXY BUDS provides comfort with its ergonomic wingtip, balanced sound, and a clear voice transmission by minimizing external noise. The GALAXY BUDS features battery life that lasts up to 20 hours with its pocket-sized case, along with fast charging capabilities and simple touch controls for a complete sound experience.

GALAXY FIT & FIT E

The GALAXY FIT is a smartwatch that reflects on the lifestyle of millennials. It can be used daily due to its light weight and comfort. The GALAXY FIT E can last up to 10 days without charging, which allows activity, sleep, and heart rate monitoring by observing the user all day long. The minimalistic-style smartwatch tracks every movement of the user.

SINGLE TAKE - CAMERA UX

The SINGLE TAKE MODE, created in collaboration with the Mobile Communications Business, is an AI camera function that allows users to capture various styles of photos and videos with a single tap. With a broad selection of camera lenses and features, including ultra-wide angle and live focus, users can conveniently encapsulate significant moments for up to 10 seconds.

Gear IconX(2018)

Gear IconX is Samsung's first fully wireless earbuds. Designed and optimized to maximize freedom, Gear IconX is capable of storing up to 1,000 songs locally with continuous playback of up to five hours, the Gear IconX offers the flexibility of a completely standalone audio experience. Touch controls on the earbuds, voice assistant support and a sleek charging case complete the experience.

Gear fit2 pro

Gear Fit Pro is the water resistant (5ATM) smart fitness band. With Curved Super AMOLED display, it enables users to track their health, fitness, and lifestyle virtually anywhere. It has won iF award in 2017, 2018, as well as the IDEA award in 2017.

Galaxy view

Galaxy View is a new type of 2 in 1 offering the functionality of a Tablet and the entertainment experience of a TV. Designed and optimized for streaming video, Galaxy View delivers an immersive viewing experience via its 18.4" display, engrossing audio via stereo 4W speakers and hands free usage through its thoughtfully integrated stand. With battery life of 8 hours and integrated WiFi/LTE, Galaxy View enables a TV-like experience, anywhere.

Gear Fit

Gear Fit was SDIC's first wearable and Samsung's first fitness device as well. It won the 'Best Mobile Device' award at Mobile World Congress in 2014, and its modular design, beautiful color display, and curved screen are still iconic today. SDIC design members pushed Samsung's hardware expertise and had to balance informationdensity in creating a "glanceable" experience.

Level Headphones Over

SDIC created Samsung's first effort in the premium headphone sector. The industrial design team built a sleek and minimalist design for comfort and an intuitive and simple touch experience on the side of the headphone for a truly user focused headphone set.

GALAXY VIEW

Working closely with the Seoul office, the SDIC office oversaw the entire project from original identification and incubation, through to manufacturing all the way through to the go-to-market process. The result was a new category in the entertainment market with using the Galaxy View.

GEAR S

SDIC worked closely with the Seoul office Product team on the final design, materials and straps. The product strategy team was involved in helping build the service partner ecosystem, explaining how partners could adapt their services to the new world of wearables and even going to New York Fashion Week to present the device with designers like Diesel and Swarovski.

GEAR FIT2

The Gear Fit2 was a multi-department collaborative effort. The product strategy team worked with local sales and retail teams to develop the Gear Fit2, incorporating user and retail feedback into the design from its inception for music and sensor accuracy as key features. As the project neared launch we helped support the local sales team with the positioning and go-to-market activities.

Gear Circle Headphones

Our designers wanted to be more fashion oriented with these headphones, designing a necklace that you would be comfortable leaving on and not have to worry about taking them out and untangling them.

GEAR ICONX

The SDIC teams worked together to build Samsung's first truly wireless buds, Gear IconX. Our design team did deep ergonomics testing to ensure that the buds would stay in and solved the difficult challenge of putting 4GB of memory in them so that you can load your MP3s directly to the headphone and leave your phone in the locker room at the gym.