GLOBAL DESIGN STUDIO SERIES #4

SAMSUNG DESIGN EUROPE
Samsung Design Europe creates modern
and revolutionary experiences that reflect
Europe's culture and diversity

Our cross-disciplinary design studio preserves and celebrates the finest aspects of European design, while forecasting future needs by questioning norms and conventional thinking for use in Samsung Electronics' entire range of products.

SDE, Creative European Hub

SDE is located in the heart of London, taking full advantage of the city's status as a world-renowned center of artistic talent and dynamic design. An additional office in Milan was opened in 2005 to harness the flow of creativity that pulsates through the Italian capital of culture and fashion.

A New Perspective On Products

At SDE, we're involved in every stage of the product development cycle, from inception to public launch. Our in-house experts cover a diverse range of design fields, and often team up with world-renowned leaders to enhance our knowledge and insight.

We also carry out in-depth studies of behavioral trends to identify new ways to improve the lives of consumers and businesses through technology. Our influence can be seen in next-generation products sold across the globe including smartphones, laptops, televisions and home appliances.
HISTORY
2

0

0

0

Samsung Design Europe (SDE)

opened in London, UK

2

0

0

5

Samsung Design Milan (SDM)

opened in Milan, Italy

2

0

1

2

SDE and SDM combined to unify concentration in Europe SDM is changed to the Milan Branch Office

(CMF Expert Lab)
The items that we surround ourselves with are more than just a collection of disparate things. When viewed and evaluated as a whole, they tell a very personal story about our lifestyle, our aspirations, about who we actually are. Indeed, they're a clear illustration of our perspective on the world.

At SDE, we follow a similar ethos. The technology we have at our hands leaves us with infinite opportunities, yet our work aims to complement or challenge the existing perspective, and open up a world of new

possibilities.

Felix Heck,
SDE Head of Office
OUR TEAM
SDE – London
Product Design Team

Creating experiences beyond seductive styling based on Samsung design Europe's iconic DNA with a sheer passion for design and a meticulous eye for detail our team sculpt, model and redefine archetypes into holistic experiences.

Insight and Innovation Team

The I&I team solves unique challenges across the business, by crafting opportunities and innovative futures inspired by the lives of real people, to create tangible impact. They deliver products, services, and experiences that transform the relevance of Samsung Electronics for people.

User Experience Team

Regional Product Innovation Teams (PITs) examine evolving trends and behaviors, uncovering insights that lead to category-defining product innovations.

Trend Experience Team

Our trend researchers take a fresh yet critical look at global design thinking and social change. This helps to influence our overall brand approach as well as ensure the success of each product family on a worldwide scale.
SDE – Milan
Material Experience Team

The Milan team explores the world of materials through research, analysis, and studies that investigate how manufacturing technology can trigger and amplify interaction.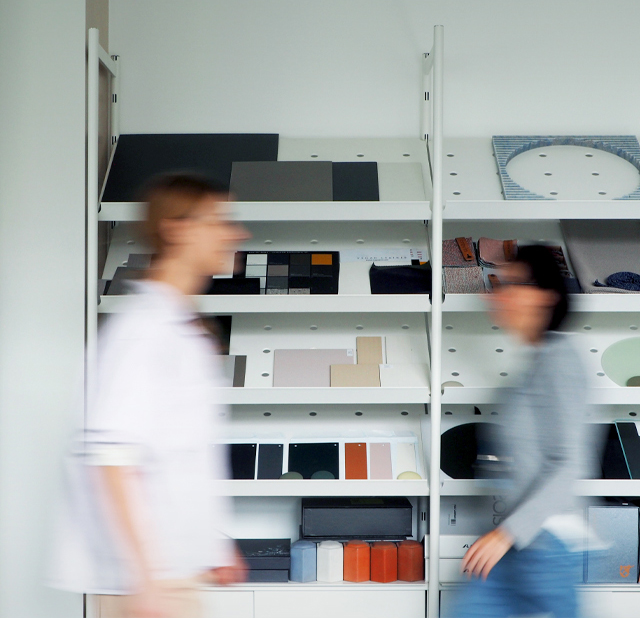 OUR WORKS
Trend and Future Forecasting

SDE conducts Trend and Future Forecasting research, which provides a better understanding of the world we live in and its people. It also deciphers the main driving forces that shape our behaviors. Our socio and cultural insights are translated into strategic key values for the business and also serve as creative inspirations for designers.

FAMILY HUB UX

The FAMILY HUB UX was developed through the collaboration with the UX Design Team of the Digital Appliances Business. Facilitating family interaction through family boards and adding to the interior with cover screens, FAMILY HUB presents a new paradigm for refrigerators by expanding its role as the cornerstone of a smart home.

ODYSSEY2

The ODYSSEY2 maximizes cooling performance to avoid overheating issues with its unique hinge system archetype and solid aluminium body. The exterior pattern of Damascus steel, slim line bezel, and edge-to-edge keyboard provide an immersive gaming environment as well. Additionally, PC games can be enjoyed on mobile through the GALAXY LINK.

FOLD SERIES RESEARCH

SDE worked with the Mobile Communications Business's design team to explore a new foldable experience. Various user researches were conducted to enhance the comprehensive experience provided by the hardware and interactions of a foldable phone.

ODYSSEY S

The Odyssey is a powerful gaming PC with dedicated VR capabilities and a keyboard-and-mouse set designed for serious gamers. Its symbol has been inspired by the image of a powerful hexagonal storm raging in Saturn and it is reminiscent of an eye of a dragon.  With a unique sitting position and optimized cooling, the Odyssey offers a clean and fresh approach to gaming. Convenient hot keys make it easy to monitor and optimize your game performance, including frame rates, system status updates, and more. The Odyssey is a gaming PC built for gamers of today and tomorrow. With a 128GB SSD and 16GB of RAM, games install and load faster. The Odyssey PC is compact, extremely portable, easy to connect to any screen, and the easy-to-lift handle located in the rear even functions as a backdoor to graphic cards and ports.

ODYSSEY Z

With a slim aluminum body that is only 17.9mm thick and the 'Z Aeroflow' cooling system, the Odyssey Z provides top-tier performance. It boasts a 'Futuristic Shield' design achieved through a cutting-edge 3D Face Cut method, resulting in a look that resembles the scales of a Silver Dragon spewing Ice Breath. The SDE developed a new manufacturing method based on state-of-the-art tools and processes required for metal finishing while adhering to strict dependability tests. We made the utmost efforts to elevate gaming experiences for gamers by placing the keyboard near the bottom and shifting the touchpad to the right so that gamers can easily access Gaming Hot Keys right above the touchpad to take screenshots or record videos of in-game screens with a touch of a button.

SAMSUNG NOTEBOOK FLASH

The Samsung Notebook Flash is a product for Generation Z, merging retro modern design with the Wireless Internet functions of the highest caliber. Its cover designs offer three distinct styles; Linen White and Soft Coral overlaid with gentle dotted patterns, and Twil Charcoal with oblique patterns. It is also equipped with Intel's latest Gigabit Wireless LAN card that is optimized for Korea's network carrier KT, allowing users to download large files much faster. The keyboard alludes to analog typewriters, offering a comfortable typing experience and leaving a lasting impression of each keycap looking as if they have been individually crafted. The palm rest has a fabric-like texture that provides users with a completely different feeling compared to the metallic surfaces of other laptops.
Design Story Movie

LEVEL BOX SLIM SPEAKER

Using the elegance of Samsung's signature design language and complemented by seductive styling, the Level Box Slim speaker is a portable Bluetooth speaker featuring waterproof(IPx7) and rechargeable battery pack function.

LUMI

SDE worked side by side with the main office in Seoul to create the overarching UX design principle for the 2017 Smart TVs. By keeping the interface light and airy and focusing on simplicity, we produced an effortless experience throughout. The result is a unified, simple design language for Samsung Smart TVs and the Smart View App.

NEO DUAL OVEN NV7000F

SDE participated in the development of a unique dual cook oven inspired by Europe's love of cooking and food. Samsung's Digital Appliance team developed the NEO Dual Oven NV7000F based on preliminary research from SDE to come up with the design concept.

R7 WIRELESS 360° SMART SPEAKER

In collaboration with Samsung's Audio Lab and the Seoul office, SDE designed the R7 360° speaker. Inspired by Fibonacci's Golden Ratio, the R7 is an immaculate design whose shape has been precisely engineered to maximise its acoustic properties. The pure simplicity of the 'ellipse' form brings an emotive human quality in aesthetics and user experience.

SAMSUNG NOTEBOOK ODYSSEY

SDE defined the 'Odyssey' sub-brand, a completely new identity for gaming laptops, preliminary aimed at the Chinese market going on to global market. After speaking with gamers, we found that many wanted a device that's packed with features on the inside, yet subtle and elegant from the outside. The Notebook Odyssey is just the first in a new line of premium Samsung gaming products that will use this new, modern approach.

DESIGN INSIGHT REPORTS

SDE also conducts trend and insight research based on social and cultural signifiers. Based on these findings we produce an annual findings report that contains directions and insight for each product and department for the coming year.

PEOPLE EDGE

Samsung Mobile's revolutionary curved display technology is already a hit with our users. To further its potential, SDE's product innovators carried out ethnographic research to discover new ways to use the edges as a convenient and discreet way to access information. These improvements proved essential to any user who felt a need to prioritize their smartphone notifications.

MILAN DESIGN WEEK

Milan Design Week is the most important design related event in the world where the Milan city hosts thousands of presentations, events and exhibitions. SDE has been leading the Samsung Electronics corporate installation since 2012 to convey the visionary idea of our brand. The installations emphasize the core vision of design at Samsung Electronics by redefining the interaction between people and products as well as the aesthetics of coexistence in creating meaningful design.
SAMSUNG DESIGN EUROPE, LONDON

70St. Mary Axe, London, EC3A 8BE, UK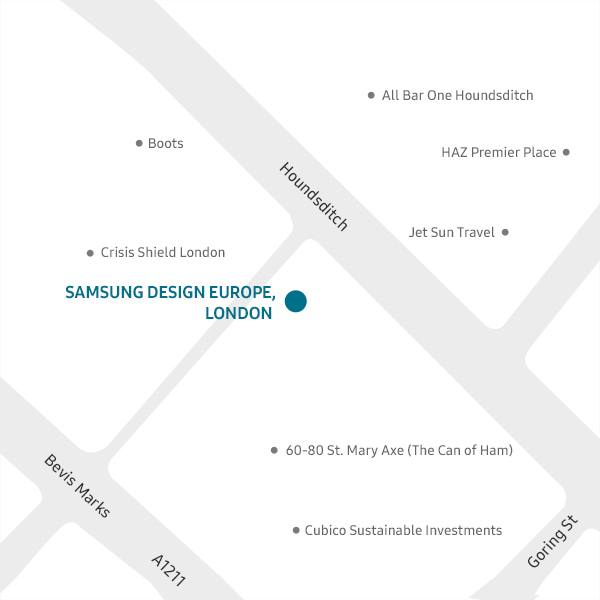 SAMSUNG DESIGN EUROPE, MILAN

1 FL., SAMSUNG, VIA MIKE BONGIORNO 9
20124, MILAN ITALY