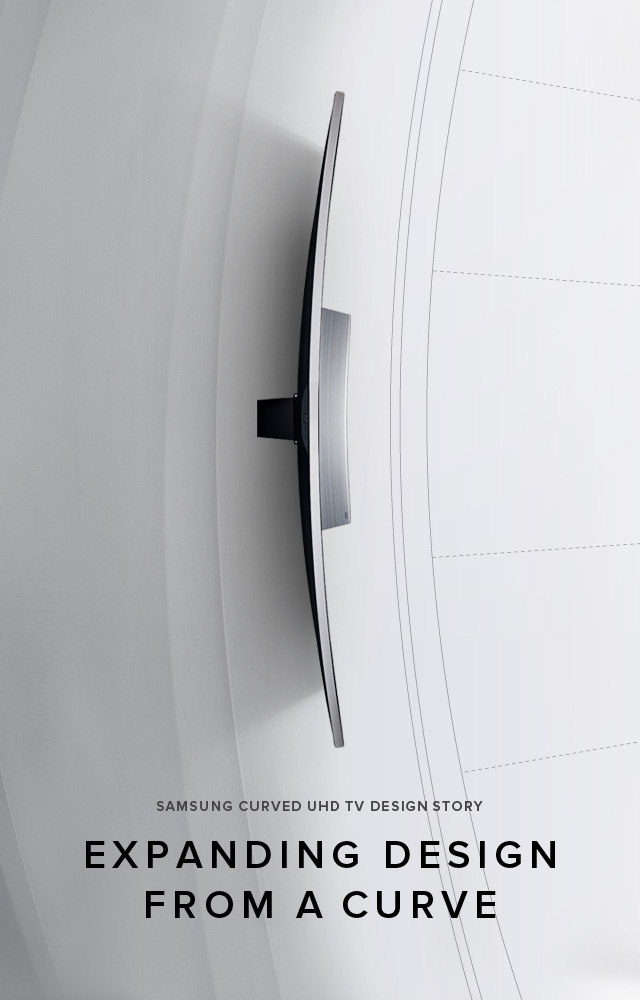 Samsung Curved UHD TV Design Story
Expanding DesignFrom A CURVE

An ergonomic curve designed for the perfect viewing Samsung Curved UHD TV now introduces a truly captivating experience

Samsung's Curved UHD TV utilizes 4200R, the curvature rate that provides the most immersive experience for users when viewing a screen from an average distance of 3-4 meters. The TV screen is formed around a radius of 4,200mm, expanding the viewing angles of conventional TVs. The curve on the screen makes it easy for the eyes to access every corner of the screen, which minimizes distortion and creates more comfortable viewing experience.

The diagonal shaped black stand provides a sharp contrast against the metal surface plate. The metal finish of the Aero Stand highlights only the screen, making it seem as if it is floating in space when the TV is turned on. With this effect obstructive elements disappear, leaving the screen to be the sole point of focus.

Sound is delivered to the user via the space between the screen and bezel, providing a new type of listening experience. Unlike traditional TVs that emit sound from the sides, Samsung Curved UHD TV has its sound coming directly from the front of the screen and thus creates an immersive 'Sweet spot'.

The Samsung Curved UHD TV – a piece of art in space when the power is off

We imagined a TV that can be placed in the middle of the space, rather than being placed upright against a wall. By shifting the viewpoint, we were able to bring a new perspective to design a TV. The graceful curve of the Samsung Curved UHD TV brings a of tension and elegance to any space.

The TV must look beautiful from all angles in order to be placed in the middle of a space. The details - hairlines on the back of the TV and the Aero Stand - allow the beautiful curvature of 4200R to stand out, and the meticulous characteristics of in the curve create a spotless design that achieves perfection.
Instead of using metaphors or symbols to demonstrate its screen's unique characteristics, the Samsung Curved UHD TV's logo uses a straightforward design to describe the product's features.

Samsung Curved UHD TV invites you to the world inside the screen as well as the captivating space that is created by its breathtaking design. The curved screen introduces you to a next level TV experience.