Feel Free to Shine
Samsung The Freestyle Design Story
Today's generation freely express themselves. They are not bound to customs and retain their own individuality through various identities. Samsung The Freestyle resembles the characteristics of this generation by being versatile and flexible in its usage while embracing diverse tastes. Its screen resonates with the lifestyles of today, giving users the opportunity to expand the scope of their identities and encounter a broader world.
* The image shown is for illustration purpose only and may differ from the actual product. Product specifications may vary by country, region, and model.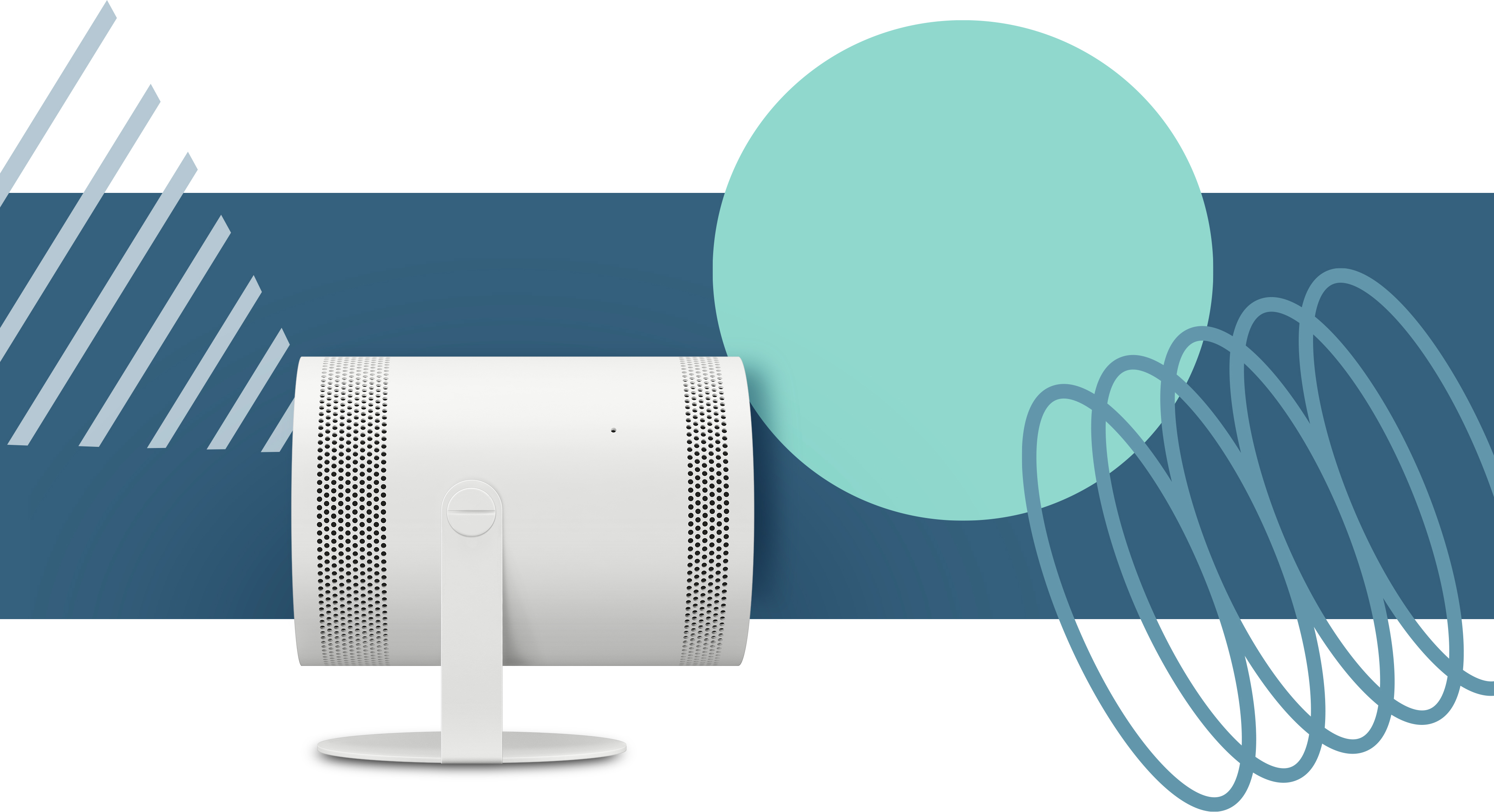 From Every
Angle
"We worked on creating a form that is easily portable and versatile at the same time."
Chulyong Cho Designer
The Nomad Worker is someone who works freely anytime and anywhere, transcending the constraints of time and space. It is now a universal concept and lifestyle shared by countless people. We want to become the masters of our own lives and prefer lifestyles and products that empower and enable us to transcend limitations. We live in an era where products that help us overcome physical constraints and orthodox methods, like Bluetooth earphones and robot vacuum cleaners, bring significant value to our lives.
Samsung The Freestyle is highly portable and can be adjusted to any angle. Users can enjoy the best quality screen anywhere and in any way they desire.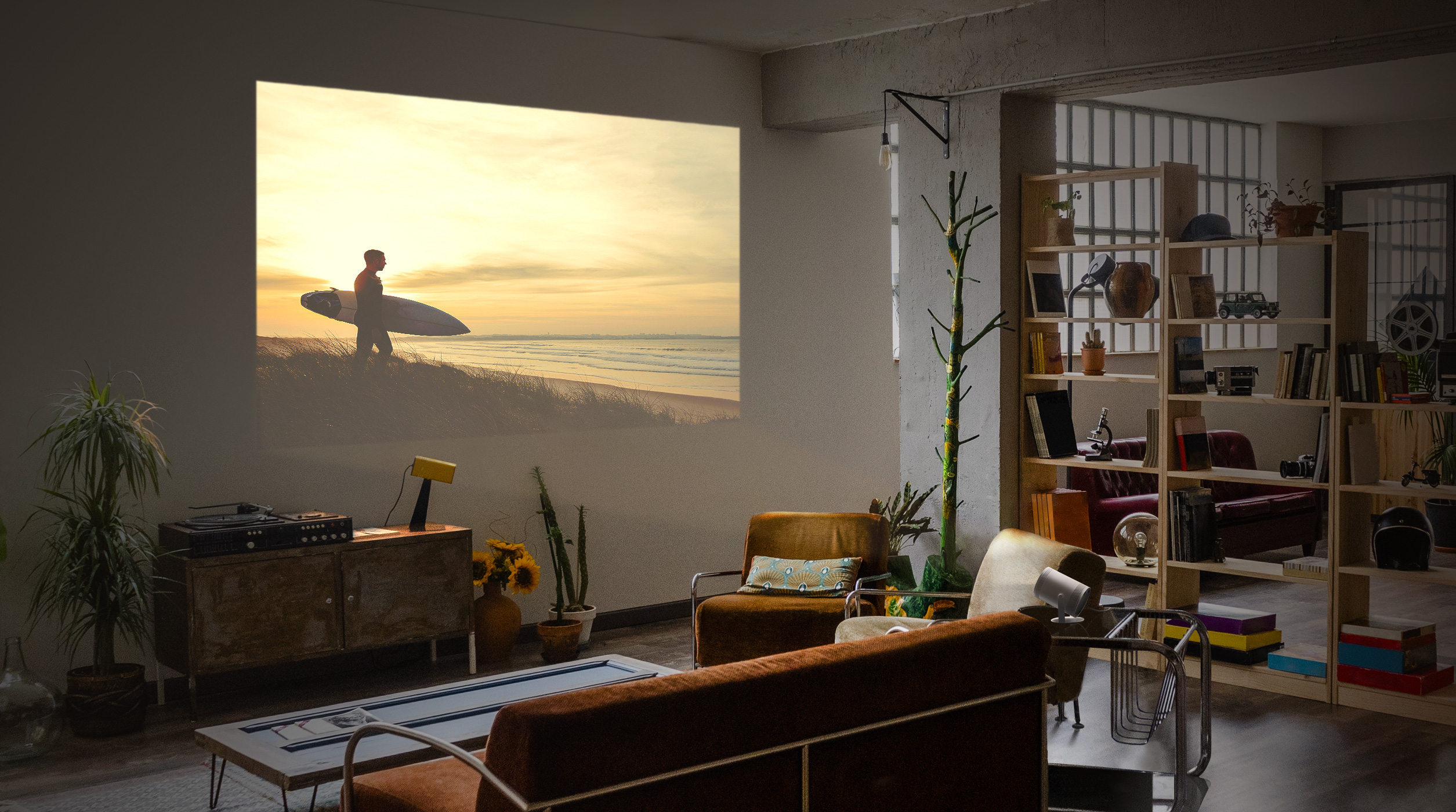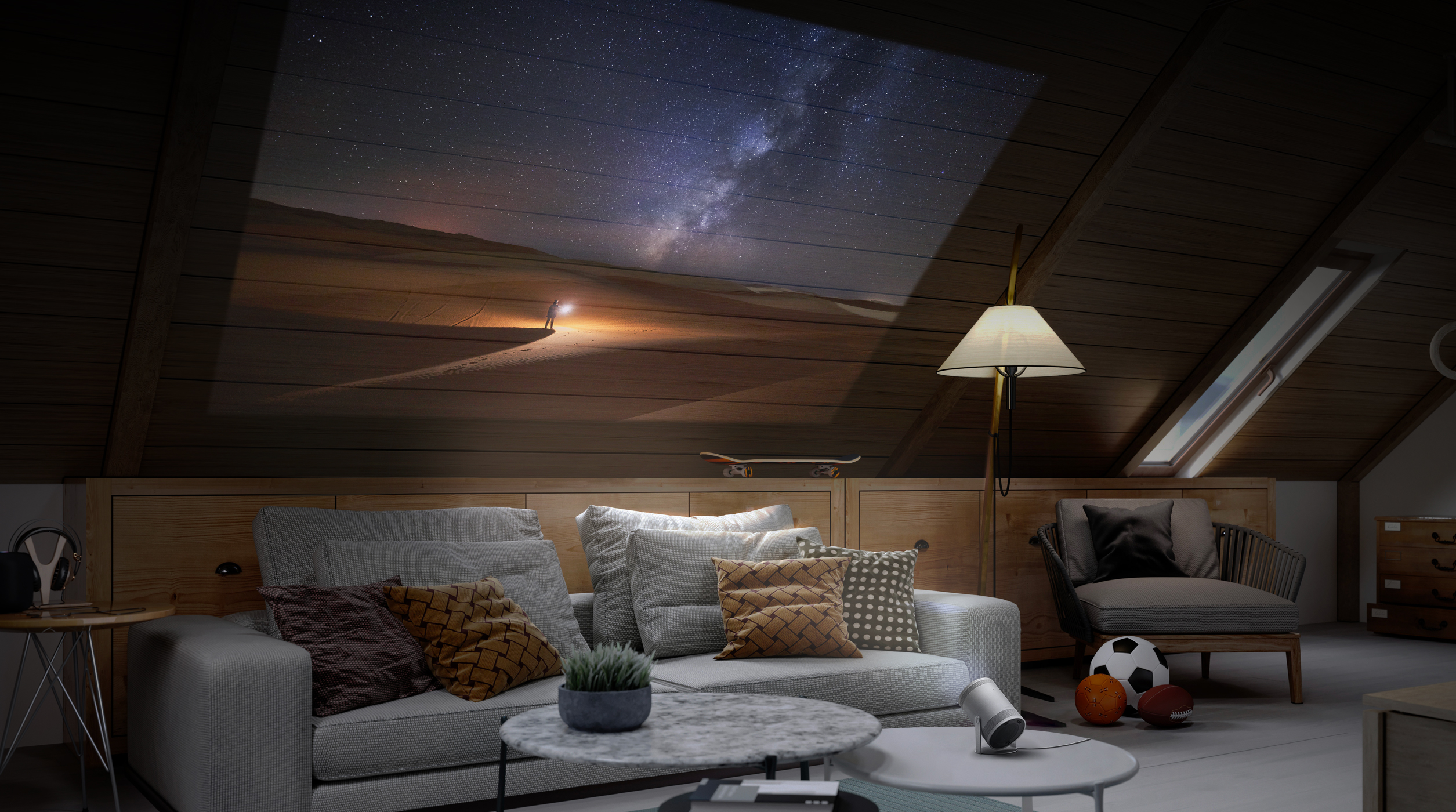 A Shape for Freedom
Samsung The Freestyle features a cylindrical shape, unlike the usual box shape presented by conventional projectors. It can be freely placed anywhere and acts as an interior objet that blends well with its surroundings. The tumbler-sized grip makes it comfortable to carry in one hand, and the angle can be easily adjusted when needed. The easily adjustable angle flexibly reacts to the situation and environment, representing the unique quality that defines Samsung The Freestyle.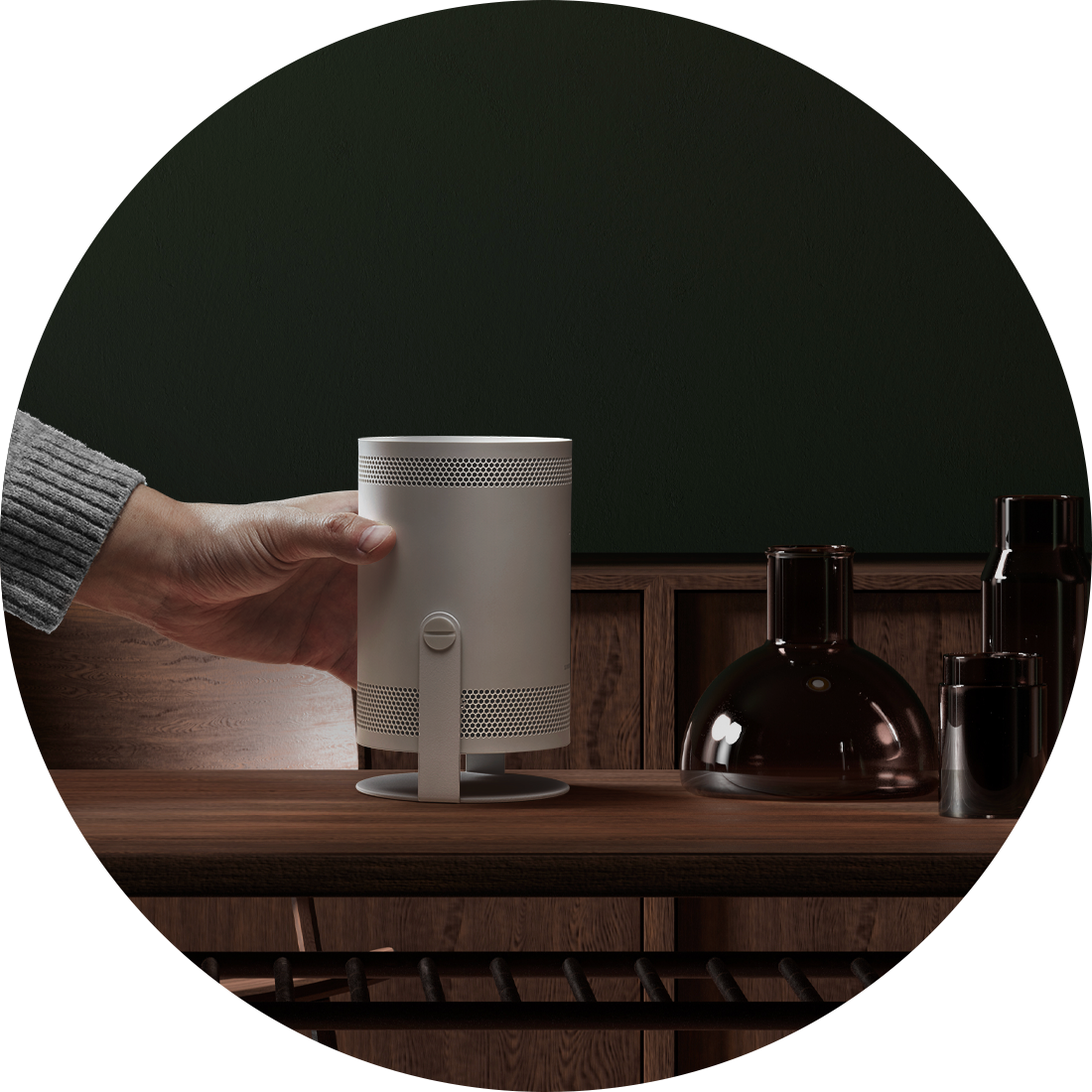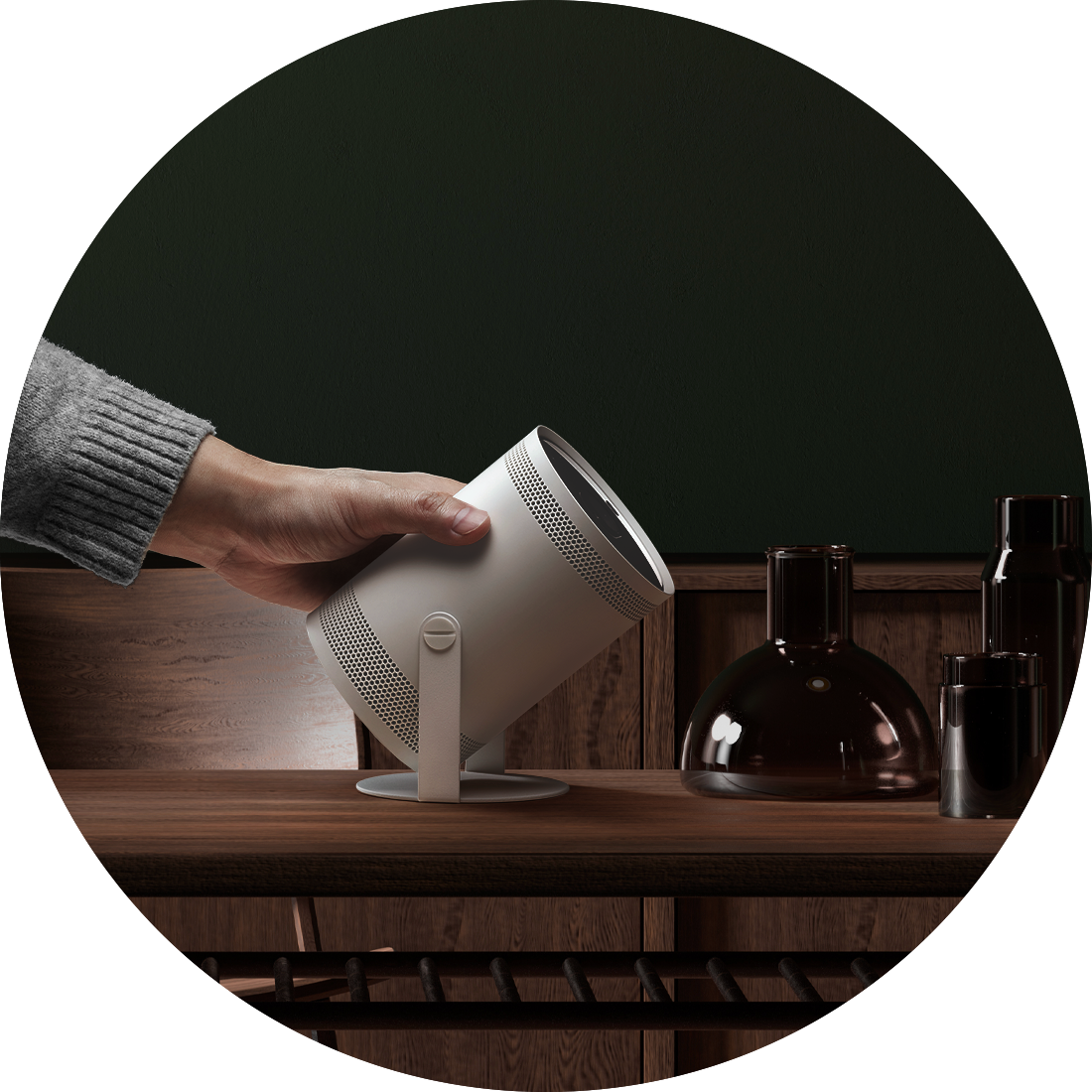 Limitless Movement
Samsung The Freestyle features an auto-fit function that displays a 16:9 screen anywhere without distortion. It automatically focuses to show a clear screen and retains the screen level to prevent inconveniences in viewing. This function helps users display the screen from different positions, unlike conventional projectors that needs to be fixed in a place. Samsung The Freestyle can be used regardless of location, displaying vivid and precise screens on the floor, wall, or ceiling.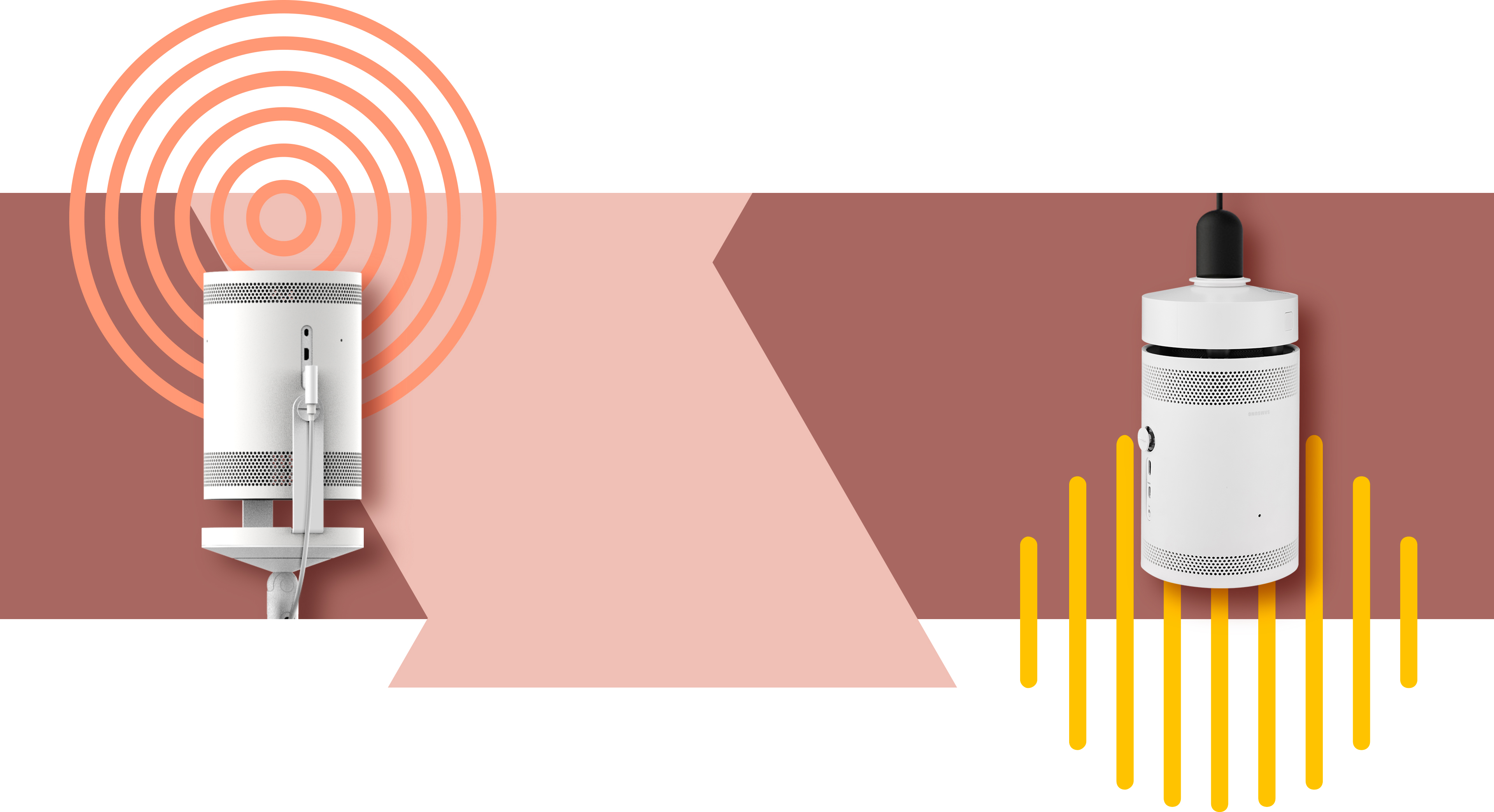 Me, Myself,
and I
Nowadays, most of us carry multiple identities. An ordinary office employee can become a bartender after work. Reviewers on social media who specialize in IT products become activists who rescue abandoned pets on weekends. In an era where our diverse egos become who we truly are, we flexibly expand ourselves without being limited to one role or identity.
Samsung The Freestyle also holds an identity that exceeds being a simple projector. It transforms itself by altering its face through a subtly lit mood lamp or ceiling lights.
"Users can enjoy a wider spectrum of experiences with the diverse accessories."
Jaeneung Lee Designer
Transform to Fit Life
Samsung The Freestyle offers a variety of accessories to broaden its scope of usage. The stand features a rotating function that provides more freedom when setting the screen, and users can utilize the socket attachment to hang the projector from the ceiling to shoot a beam on the floor or table, or even create various lighting effects. Additionally, the projector can be directly connected to light stands that use a E26 sockets.
Atmosphere with Light
Samsung The Freestyle can express unique styles using light and sound. The ambient screen feature can project various visual concepts on the walls and interior to create unique atmospheres and new experiences. Users can also apply the translucent lens cap to project soft images that acts as a mood light that creates an ambient atmosphere.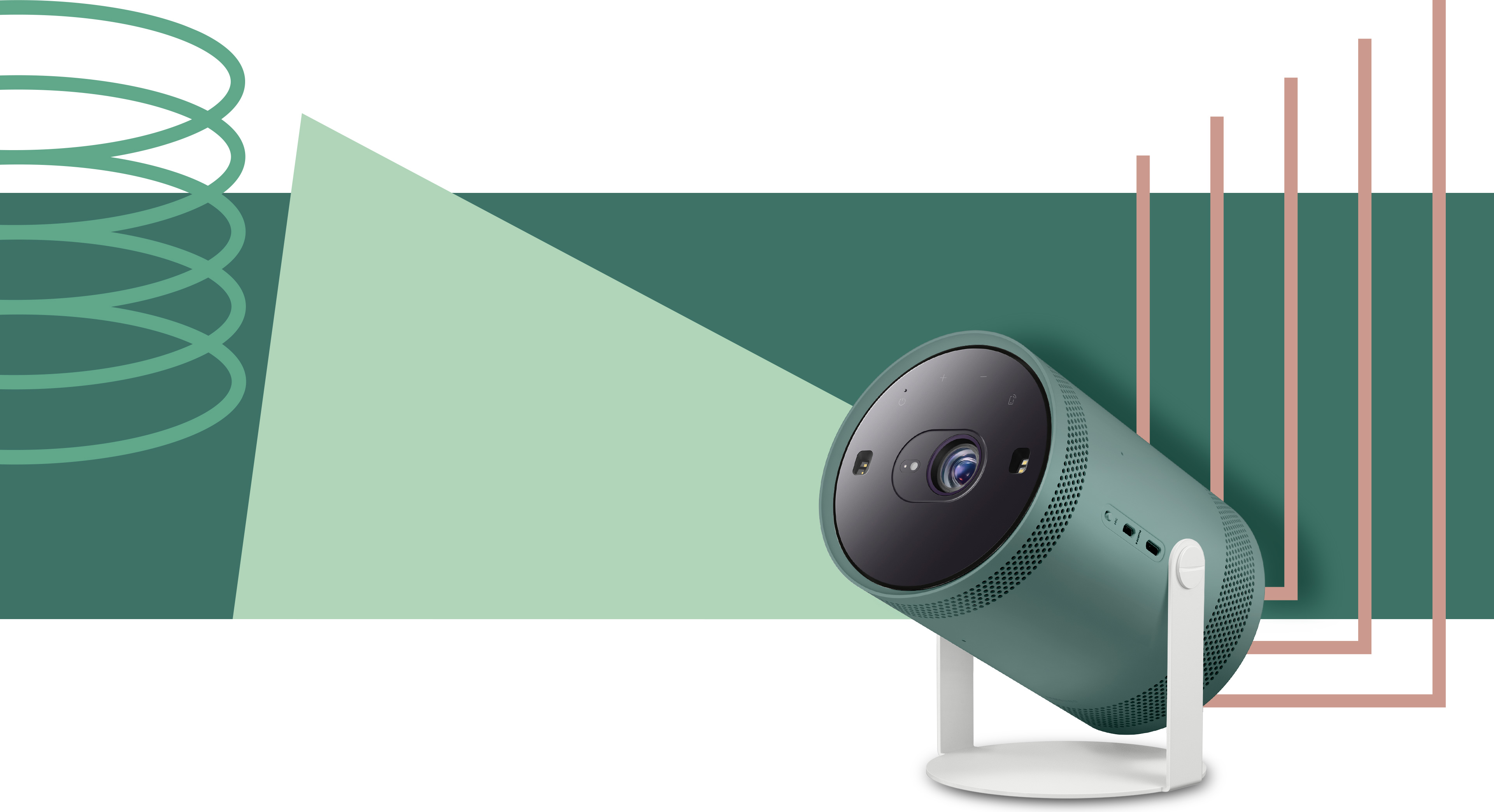 A Color for
Everybody
"We aspired to instill a lifestyle that encompasses different generations and diverse preferences." Minsun Kang Designer

"By observing how people consume various contents, we came up with the ambient experience concept."

Jenny Jung Designer
People have different personalities and enjoy expressing them actively. We take time to choose straps in our favorite patterns and decorate bags with charms that reflect our tastes. We build playlists for rainy days and share the mood with others. Personal taste is constantly on the move, naturally flowing from one lifestyle to another. Having the freedom of more choices is always better and welcomed by all.
Samsung The Freestyle respects diverse tastes and considers changes that are tailored to individuality. Colors are available in various options for users to pick and choose their preferred colors.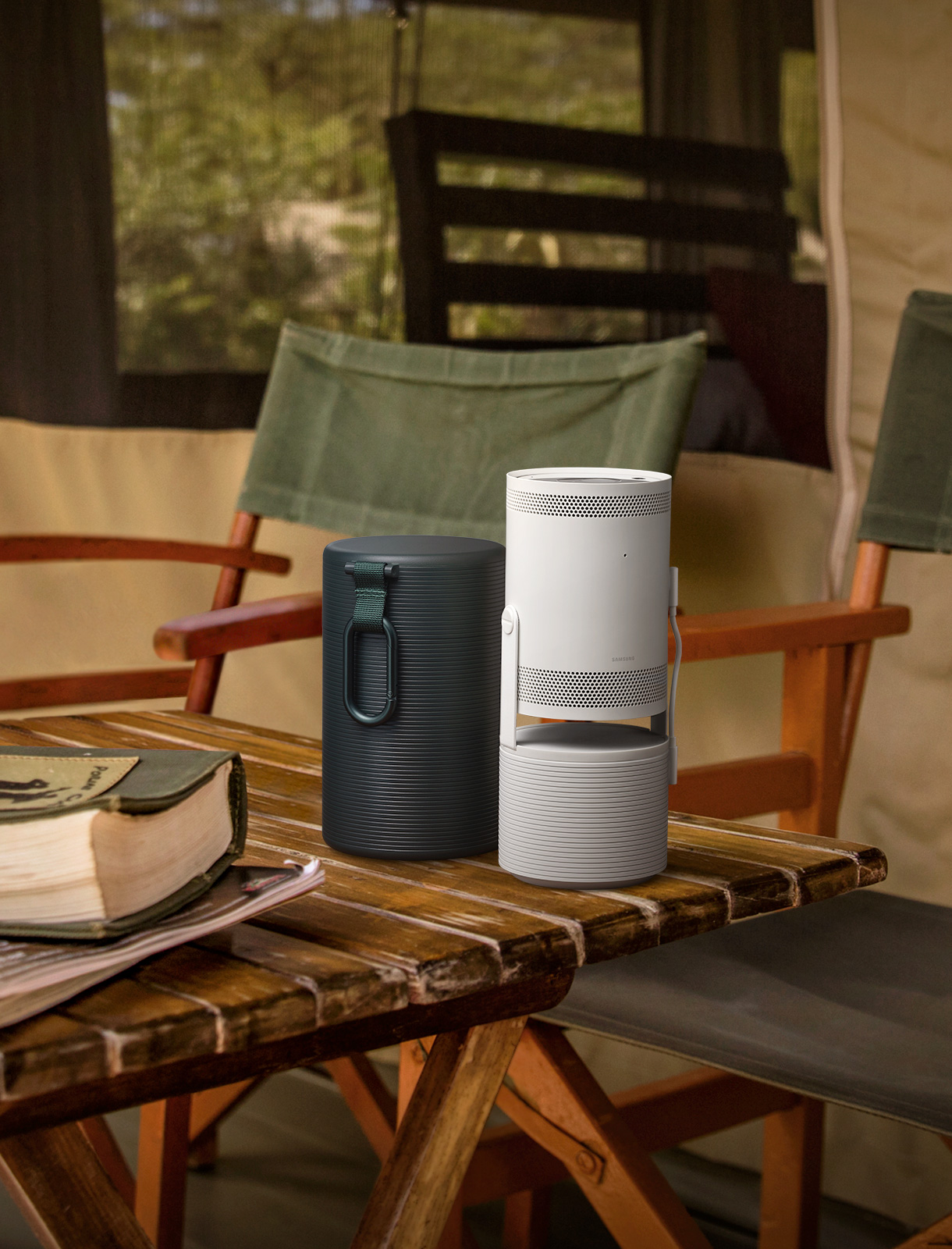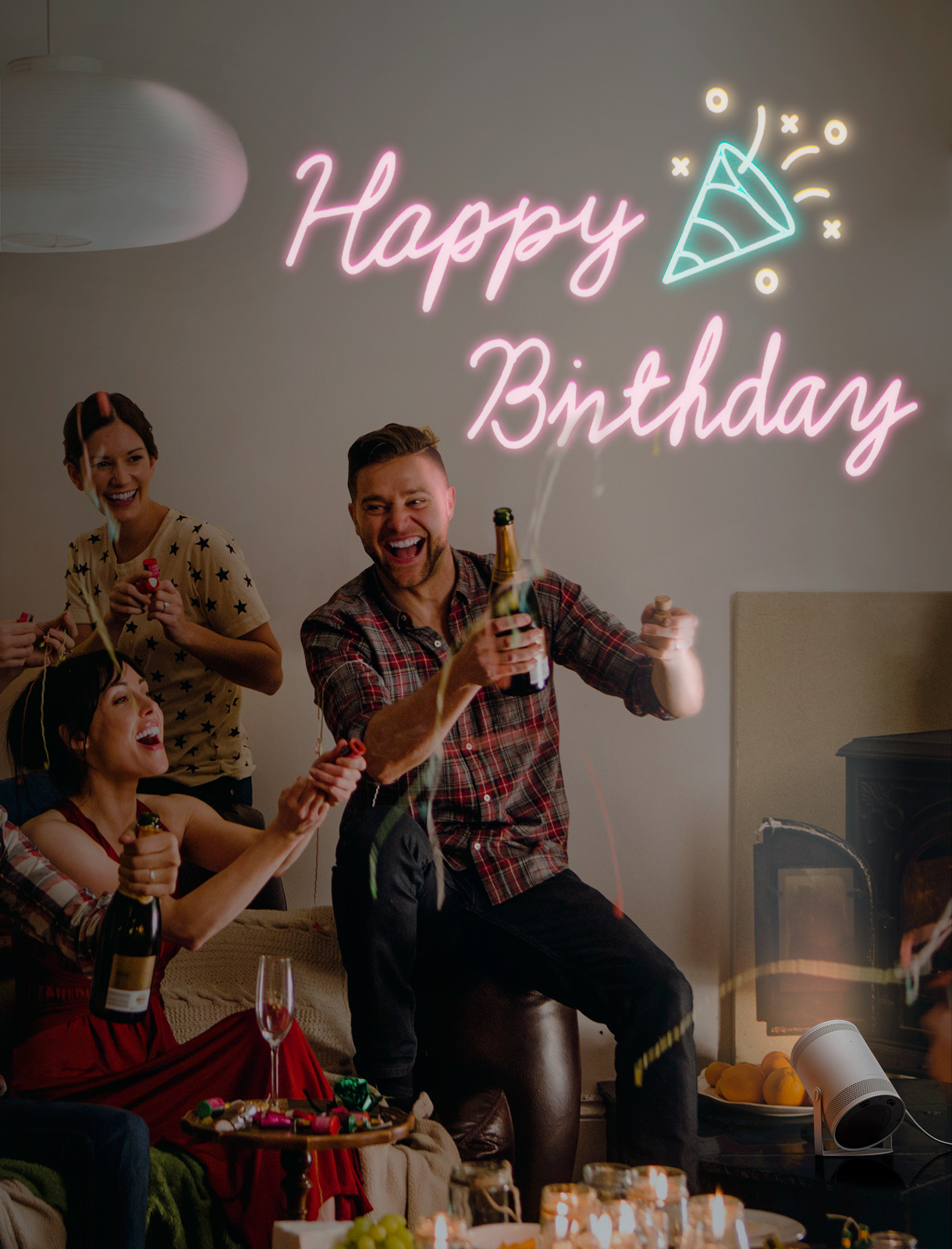 Colors for Diverse Tastes
Samsung The Freestyle provides a variety of colors to give users the freedom to express their unique styles. Furthermore, the cover is made of soft rubber material that protects the product and exudes warmth through the sentiments in its texture.
Spectrum of Use
Samsung The Freestyle is versatile enough to embrace the diversity we see in the lifestyles of users. People who enjoy camping can safely store or carry the product in a dedicated case. The 3-hour life battery pack allows users to quickly set up and enjoy content without installing additional cables or equipment. People who enjoy decorating homes can create an exotic space by adding atmosphere with an image of an aurora. Party people can set up screens displaying fancy decorations on the wall instead of making placards.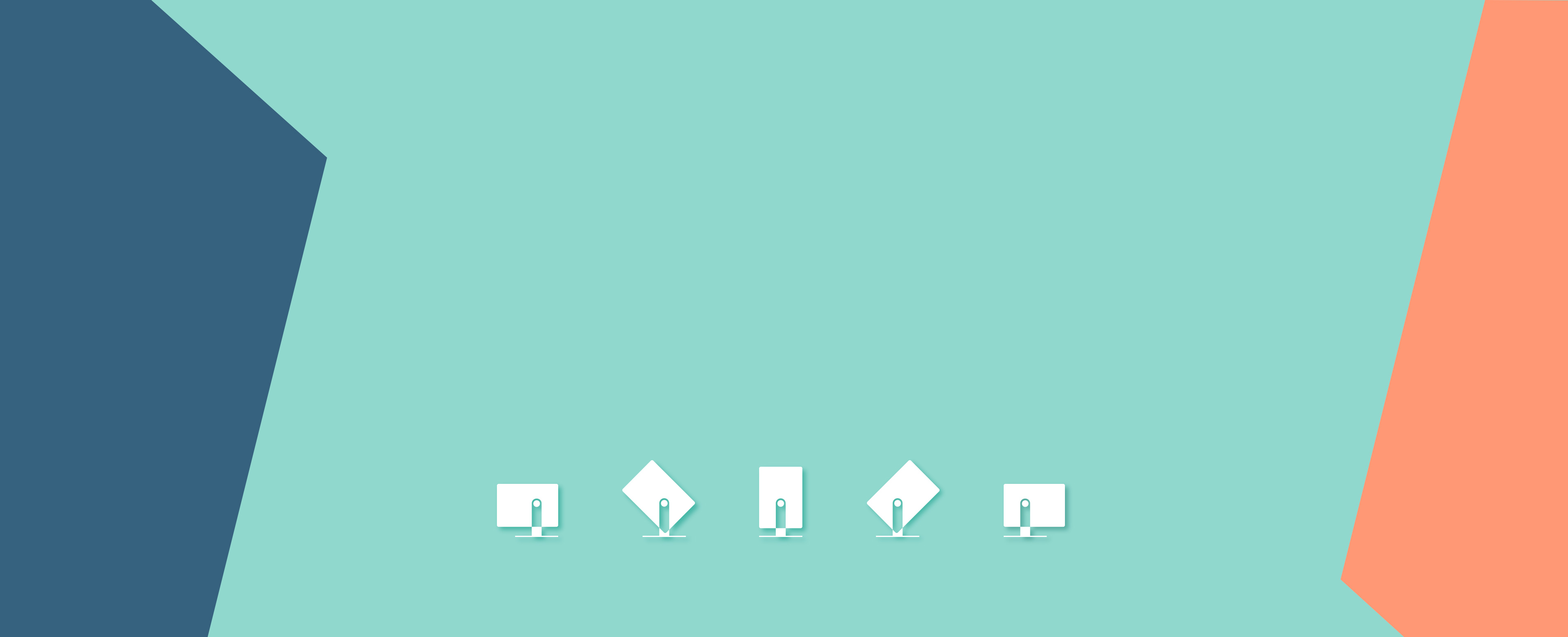 Samsung Electronics designers aspired to create an experience that allows users to view desired screens wherever and however they want. Samsung The Freestyle goes beyond the scope of regular projectors by moving freely and flexibly according to how we live today. It shines a unique shade of light that takes after the lifestyles and appearances of today's user.
Go to samsung.com