Robot with
a Sense
Samsung BESPOKE Jet Bot AI+ Design Story
This is a key visual image of Samsung BESPOKE Jet Bot AI+ contents.
From a voice assistant telling time and weather to an automated cleaning unit, robotics and AI technologies have already become a significant part of our everyday lives. However, this technology may still feel a bit distant since the experience it provides does not precisely meet user expectations every time. Samsung Electronics designers envision robots that resemble, comprehend, and care for its users. The purpose of this design is based on the natural interaction between technology and user, rather than simply delivering advanced technologies.
The Samsung BESPOKE Jet Bot AI+ was designed with this context in mind. Samsung Electronics designers' vision for a robot vacuum cleaner was one that mimicked the natural behaviors of humans to create a cleaning experience that could deeply blend in with users' daily lives and spaces. The goal was to equip a robot cleaner with the ability to think and judge situations, a friendly personality to build relationships with users, and attention to both pets and people. A robot vacuum cleaner built to resemble humans, the Samsung BESPOKE Jet Bot AI+ provides a more complete cleaning experience through deeply understanding and thoughtfully considering users.
* The images shown is for illustration purpose only and may differ from the actual product. The product's release date and specifications may vary by country, region, and model.
A Sense of
Self
Standard robot vacuum cleaners require constant inspection even during cleaning. Since robots still need a fair amount of guidance on what and how to clean a home, users needed to intervene often. Samsung Electronics designers aspired to design robot vacuum cleaners that can actively and efficiently clean like humans. For the robot to accomplish everything independently from beginning to the end, functions and structures were meticulously examined.
We thoroughly reviewed the entire process of a robot cleaner's journey to create a robot that didn't depend on human intervention.
Nooree Nah Designer
The Ability to Think
Most robot vacuum cleaner owners may have experienced irritating incidents when the robot failed to classify its surroundings and obstacles, leading to errors or accidental suction of bulky objects. To properly distinguish obstacles and space without moving in monotonous lines, the robot requires the ability to think like humans. Proper perception and delicate sensitivity are the basis of the thinking process. The LiDAR Sensor within the Samsung BESPOKE Jet Bot AI+ activates during operation and provides better understanding of the robot's surroundings by behaving like an eye. The sensor scans the house structure, builds a map, and learns the area. Based on the identified house structure, an optimal path is perceived for a more efficient cleaning. The BESPOKE Jet Bot AI+ is also equipped with an object recognition camera trained with 1 million images of various items and a 3D sensor that can detect objects ahead in three-dimensional perspectives to greatly reduce concerns of operational errors.
This is a map image of the house mapped with Samsung BESPOKE Jet Bot AI+.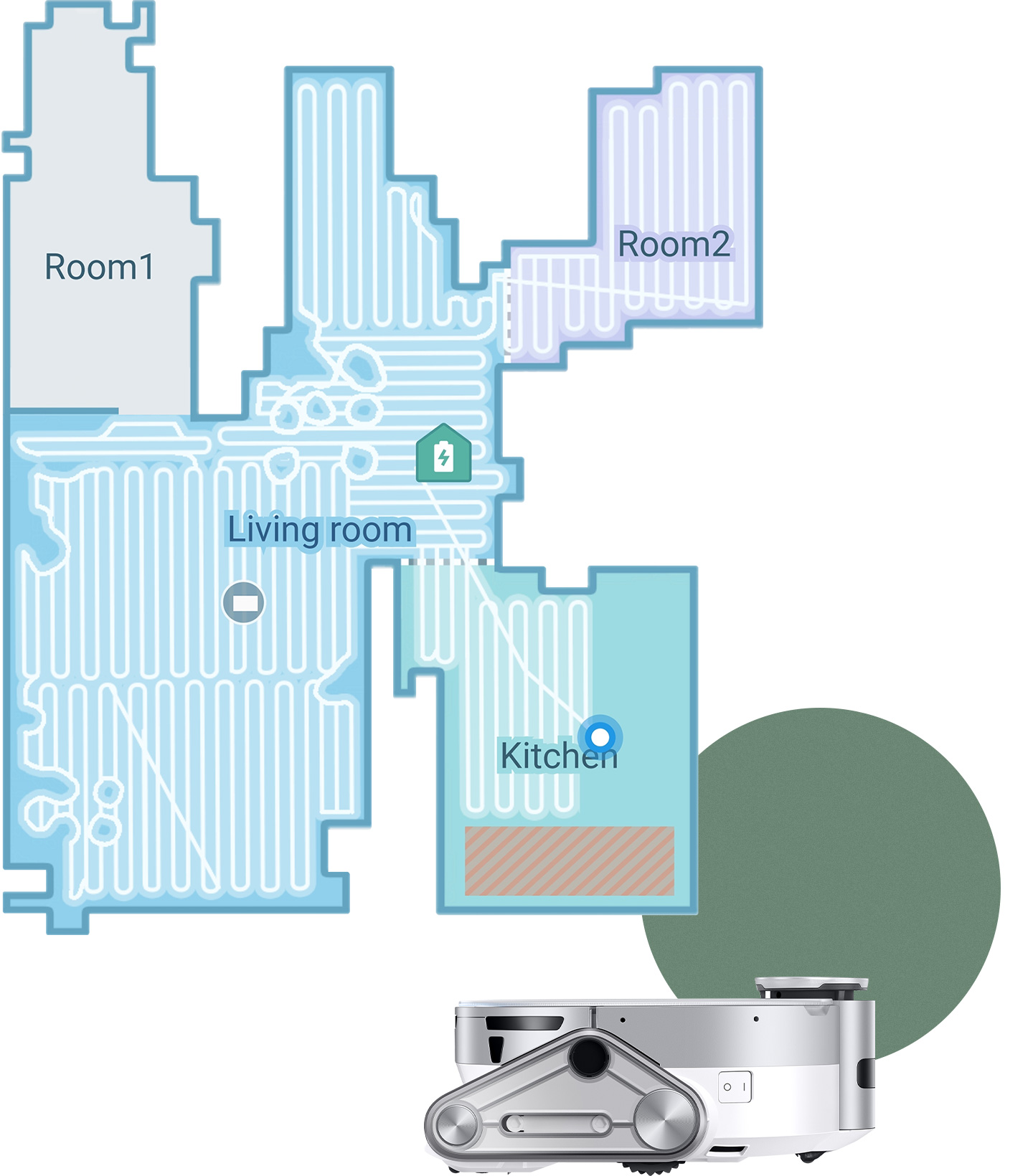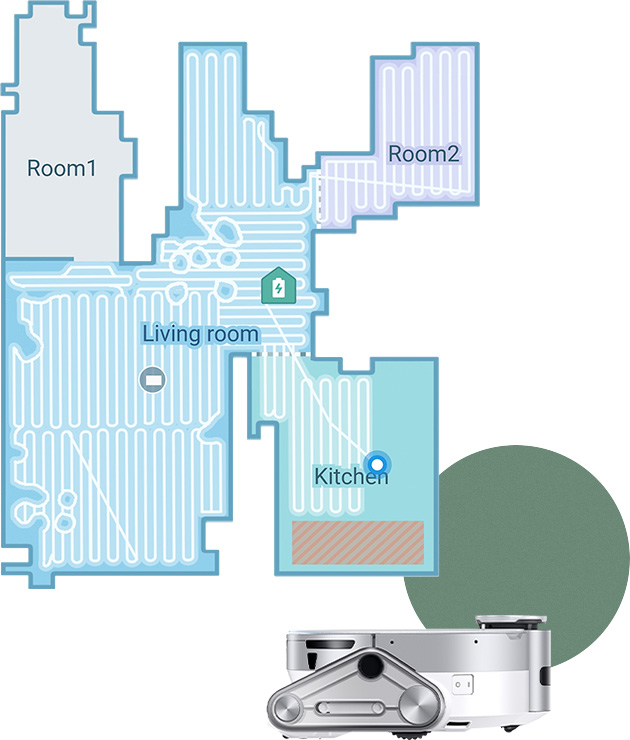 This is an image of Samsung BESPOKE Jet Bot AI+ coming out from under a narrow chair.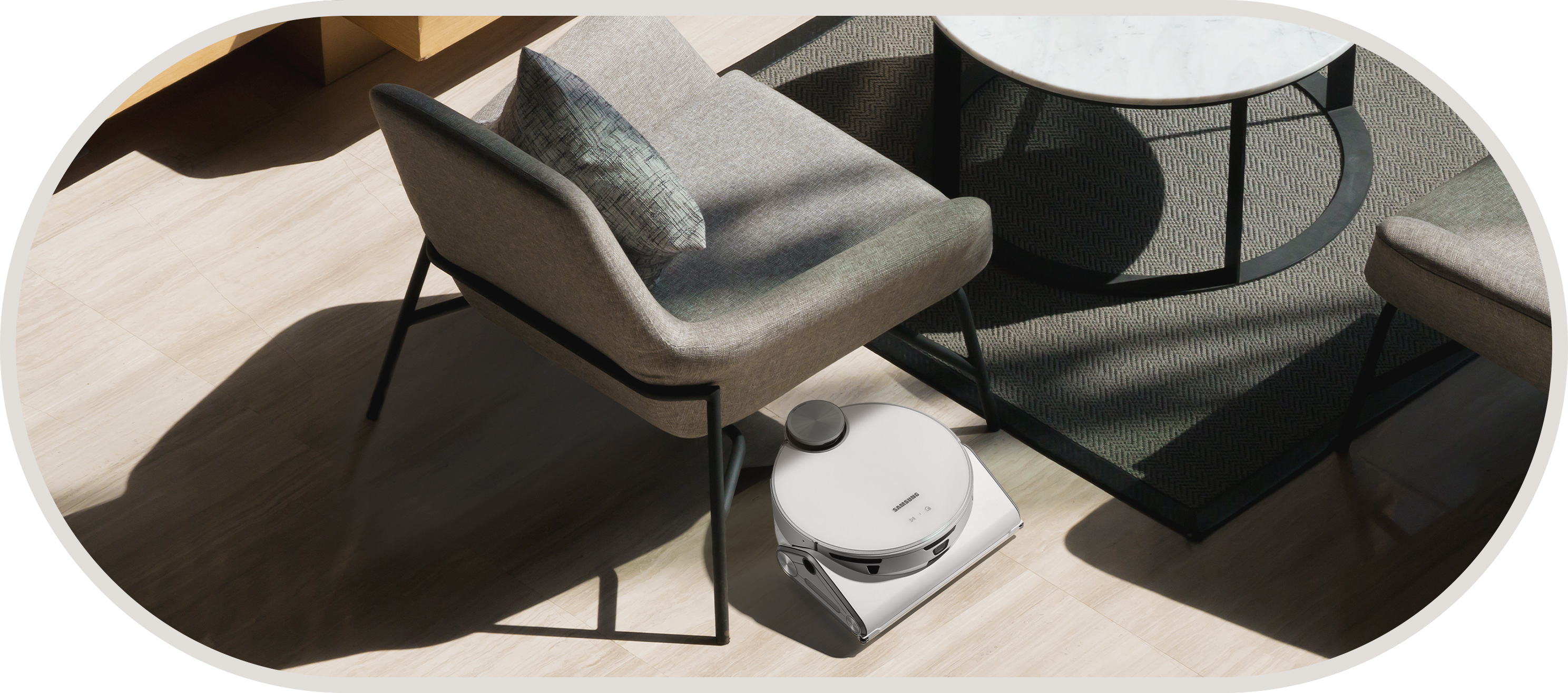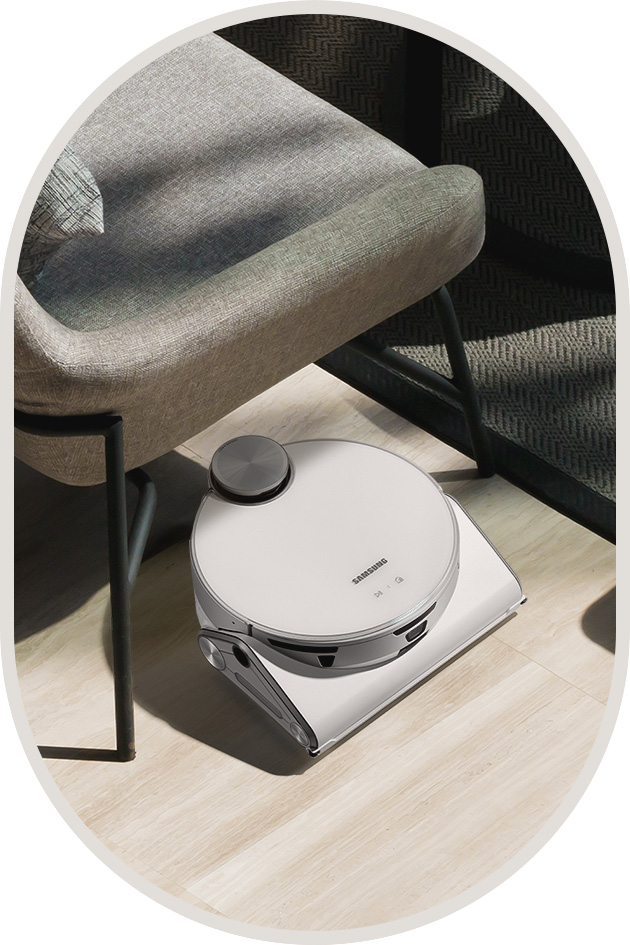 Careful Movement
Cleaning requires delicate and sensitive attention. Cleaning under small areas, such as under a chair or table, requires even more meticulous care. An appropriately sized vacuum is needed to cross freely between deep and narrow furniture gaps. To develop a robot vacuum cleaner with an ideal size for cleaning, Samsung Electronics designers deliberated on the internal structure and layout of the Samsung BESPOKE Jet Bot AI+. The LiDAR Sensor is designed to protrude slightly behind the main body to retain the aesthetics and functionality, and the triangular front bumper includes a brush, distance sensor, and electric wheels that are efficiently arranged. Designed with an optimized size, the brush thoroughly collects dust wherever it goes.
This is an image of Samsung BESPOKE Jet Bot AI+ and clean station.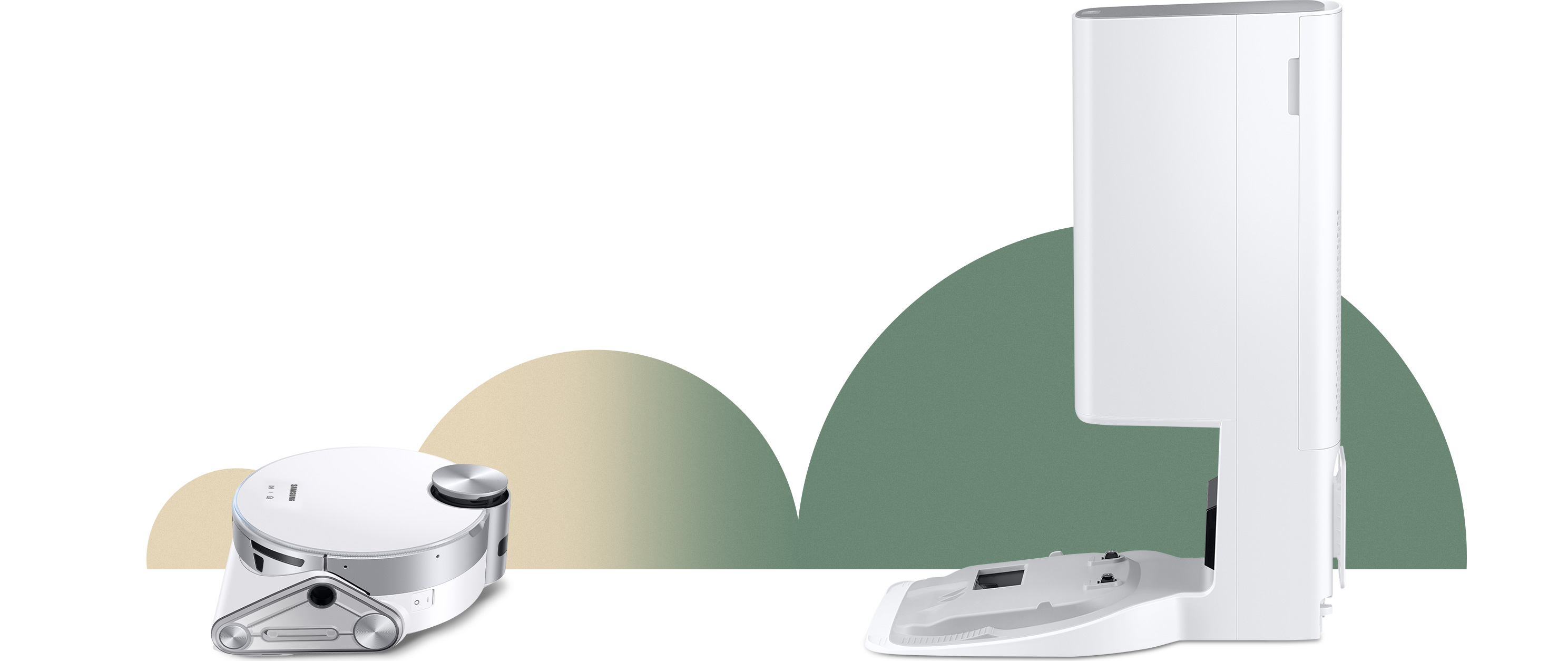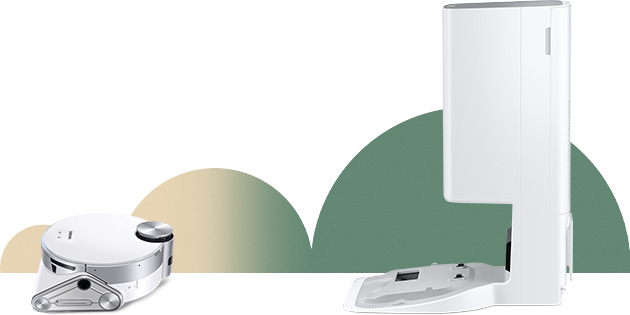 From Beginning
to End
The robot vacuum cleaner is a device that often requires user intervention. It must be moved directly to where cleaning is needed within small areas, and the dust bin must be emptied afterwards. To mimic human cleaning behavior, a robot vacuum cleaner must be able locate dirty areas and resolve problems independently. The Samsung BESPOKE Jet Bot AI+ maps the area during operation to detect spaces where cleaning is required and utilizes the clean station to empty its own dust bin. The cleaning process is performed entirely by itself without user intervention.
A Sense of Character
Since robot vacuum cleaners have done nothing more than rigidly informing users of its cleaning routine, they were never perceived as a friendly or trustworthy object. Samsung Electronics designers envisioned a robot vacuum cleaner that can understand and genuinely care for its human users, treating them as life companions sharing the same living space. The Samsung BESPOKE Jet Bot AI+ builds strong relationships with users through its unique design and communication method.
Our focus was to create a friendly AI that befriended the user as a helpful assistant instead of interacting with a machine-like personality.
Jaewon Choi Designer
We focused on designing a harmonious form
that emphasized the combination of basic shapes.
Yeonsu Kim Designer
This is a video of greeting text and lighting animation of Samsung BESPOKE Jet Bot AI+ playing sequentially.
22 Expressions
Instead of a commonly used digital screen, the Samsung BESPOKE Jet Bot AI+ vividly expresses functions and situations with lighting that subtly glows on a curved surface. The lighting gradually glows to resemble opening eyes and moves side-to-side repeatedly as if looking around while examining the house structure. The twenty-two delicately designed lighting animations intuitively and expressively convey the robot's status to users.
This is an image of the user sitting on the sofa and the Samsung BESPOKE Jet Bot AI+ next to her.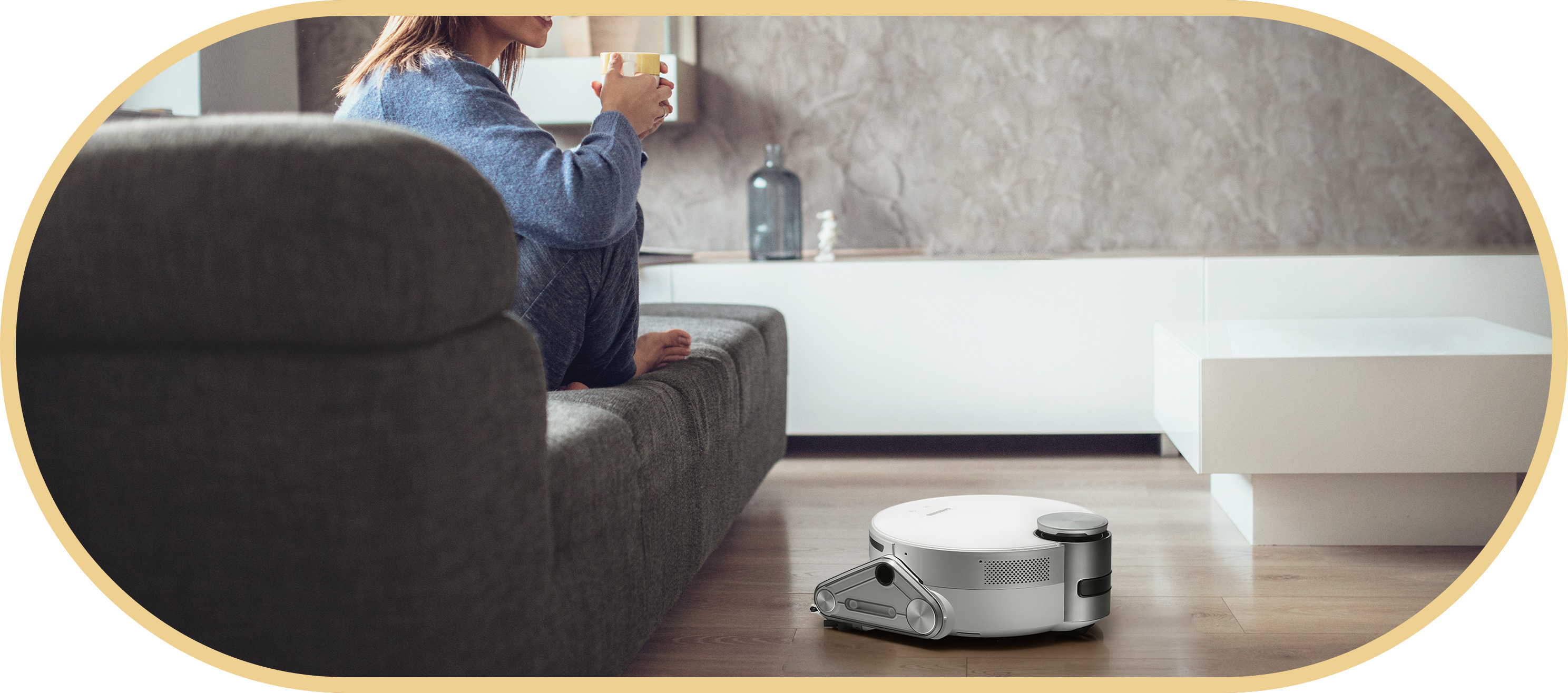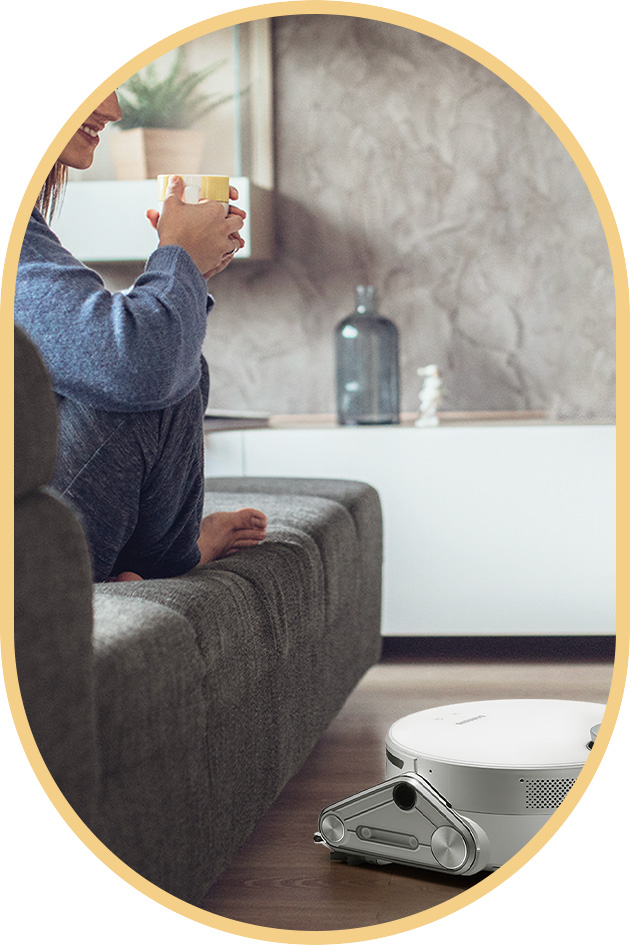 A Friendly Voice
Behavior and voice are important factors in determining personality. The Samsung BESPOKE Jet Bot AI+ is equipped with Bixby, a mobile a voice assistant developed by Samsung. Extensive research was carried out in various countries to develop a voice that has universal favorability among diverse users. The BESPOKE Jet Bot AI+'s voice approaches users with appropriate posture and warmth through its meticulously designed tone and motion. When providing functions and information related to cleaning, the robot gives a reliable impression by communicating in a serious and clear tone. In other moments, the robot speaks to the user in a friendly manner to form intimacy. The irregular and witty answers given depending on certain situations and questions give the Samsung BESPOKE Jet Bot AI+ the delightful surprise of being alive.
This is an image of Samsung BESPOKE Jet Bot AI+ in green, white, and yellow colors.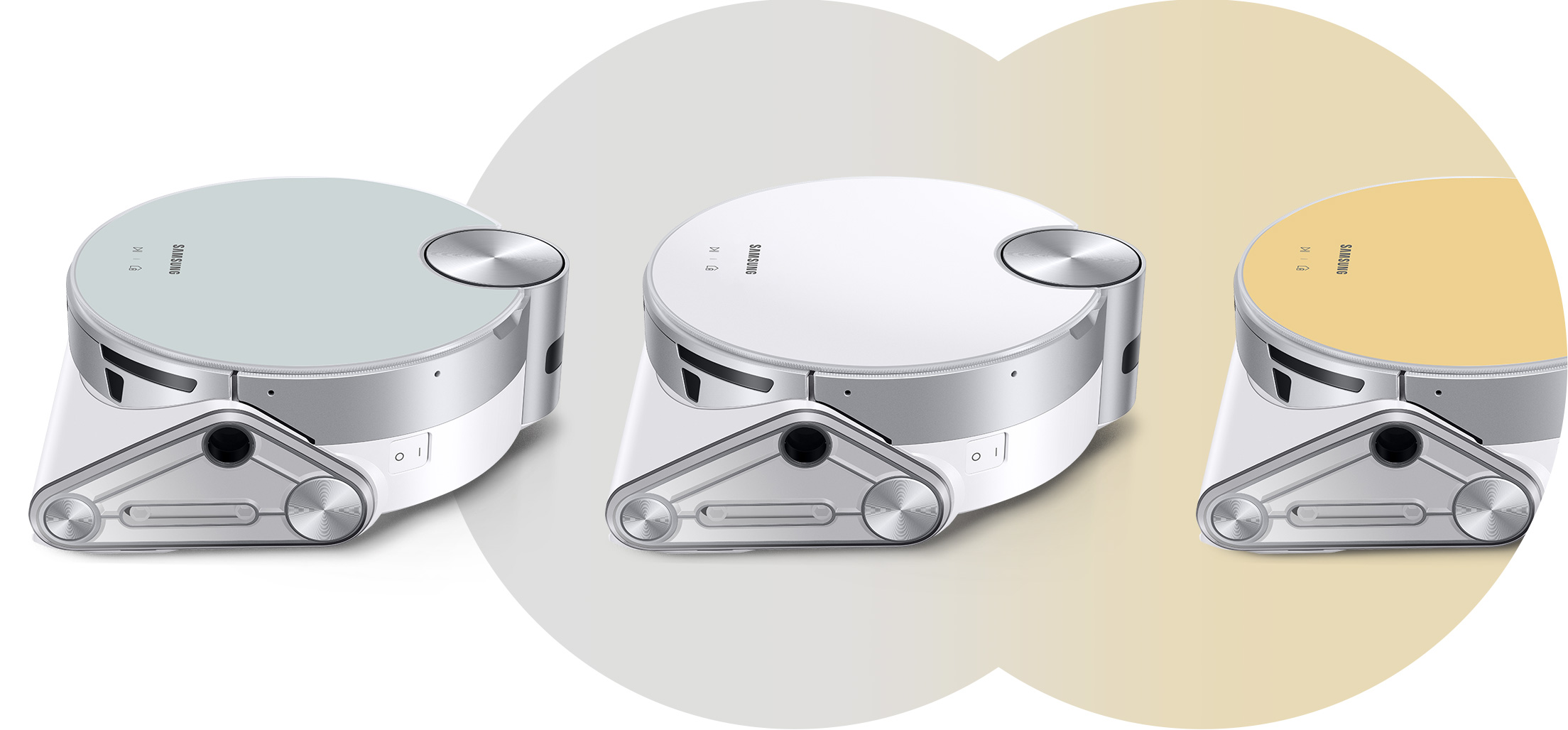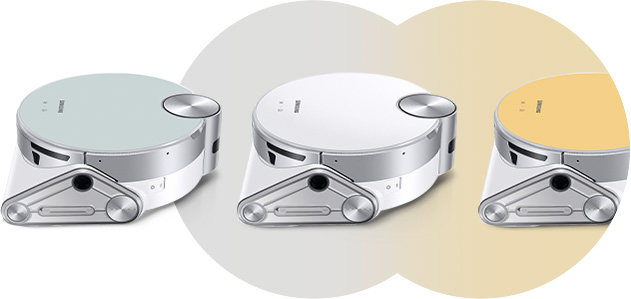 A Robot's Comforting Appearance
The Samsung BESPOKE Jet Bot AI+ features a harmonious combination of circles and triangles inspired by modern minimalistic design that can stand the test of time. The combination of the two most basic and familiar figures completes a geometric shape, giving the robot its personality as a home mascot. Unlike conventional robot vacuum cleaners that primarily express strength in their designs, the BESPOKE Jet Bot AI+'s simple and neat design focuses on having a natural presence in any space.
A Sense of
Caring
Samsung Electronics designers wanted to provide an expanded experience by defining the role of the Samsung BESPOKE Jet Bot AI+ as a life companion, not just a vacuum cleaner. The BESPOKE Jet Bot AI+ goes beyond just thinking and understanding like a human being to sharing actual tasks of its users and lessening their burdens. The Samsung BESPOKE Jet Bot AI+'s pet care functions is one example of how it lifts the pressures of pet caring for its users by partaking in the responsibilities.
We thought about the pets being left alone at home and their deeply worrisome owners when designing the pet care functionality.
Dongmin Lee Designer
This is an image of a sleeping dog and Samsung BESPOKE Jet Bot AI+.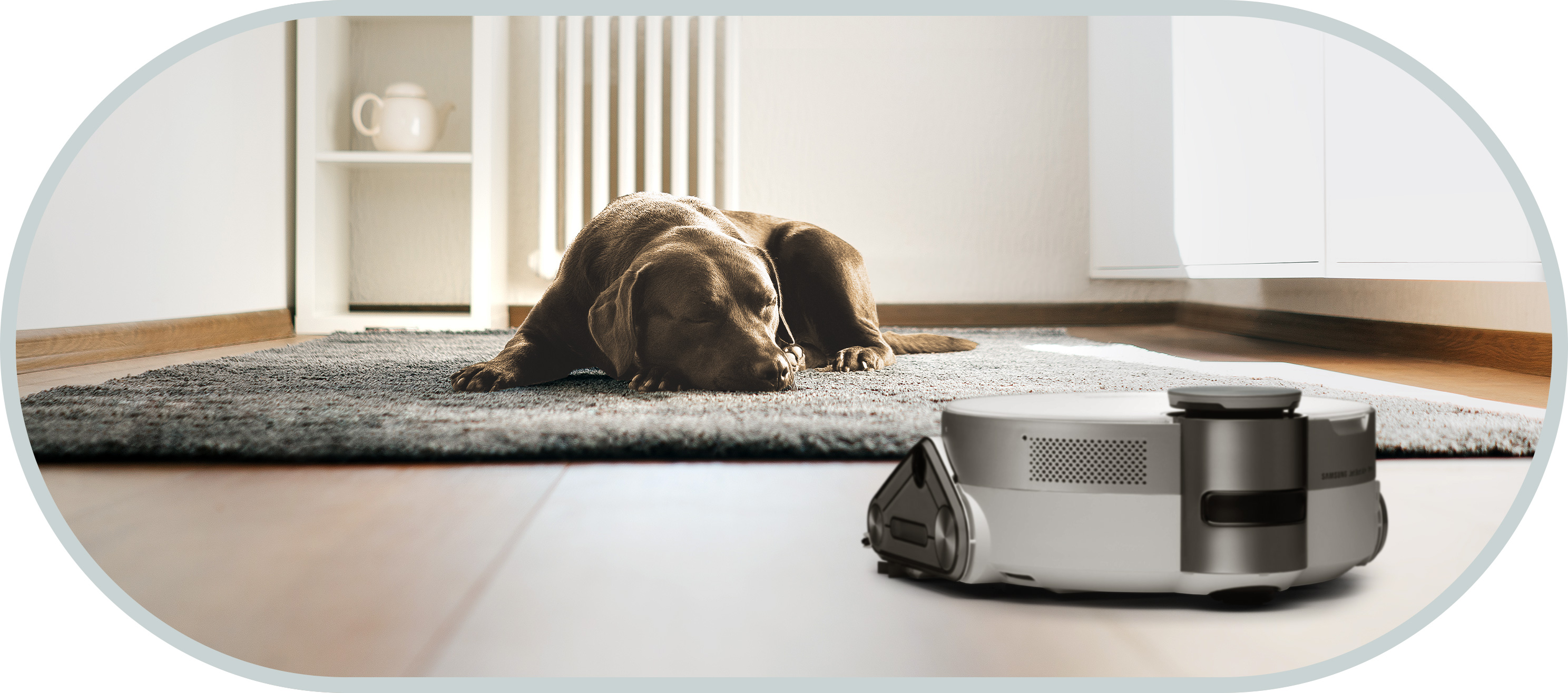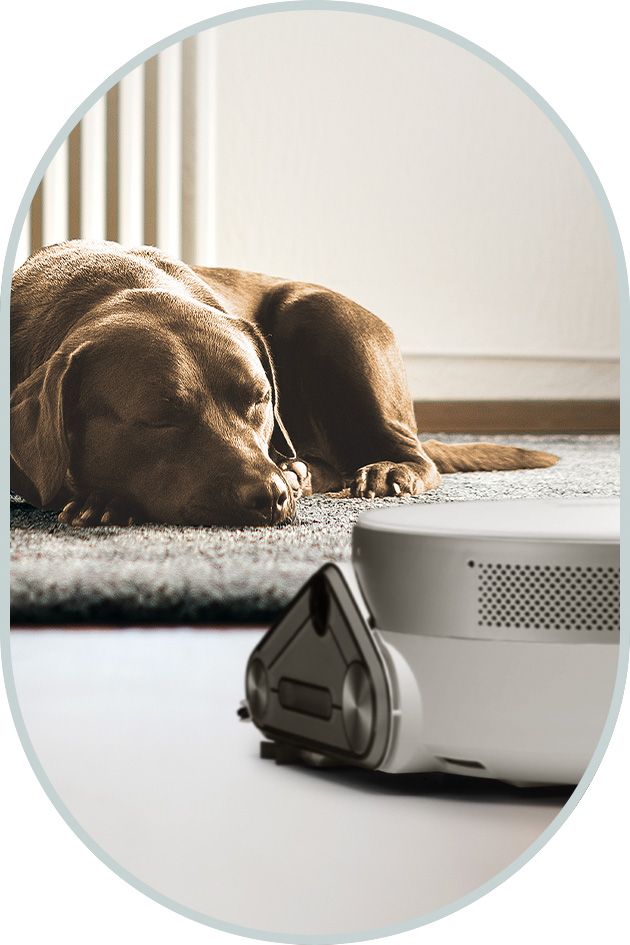 Leave Without Worries
Leaving a pet alone at home can be an anxious decision. In the user's absence, the Samsung BESPOKE Jet Bot AI+ allows pet monitoring by roaming in designated spaces. Users can observe their empty houses, check on their pets, and use connected devices to adjust the house temperature or lighting to alleviate any anxieties their pets might be going through.
This image shows connection among the icons of pets, smart phone and Samsung BESPOKE Jet Bot AI+.
The Role of a Butler
The Samsung BESPOKE Jet Bot AI+ not only monitors pets, but also constantly examines and handles their needs. If a pet shows abnormal behavior due to its owner's absence, the robot immediately notifies the user and provides helpful information relevant to the situation. The Samsung BESPOKE Jet Bot AI+ can also record the pets at home, so users won't have to miss out on all the precious moments of their pets that they might have missed.
This is the image of Samsung BESPOKE Jet Bot AI+ standing in front of the wall.
Robotics and AI technologies are already playing significant roles in our everyday lives. This deep connection is a testament to the fact that all products and technologies first begin from basic human insight and need. To prevent technology from becoming distant with its users, all product experiences must be carefully designed based on the foundation of the human essence. Samsung Electronics designers will continue to deeply survey and contemplate on the many different elements that form and motivate human behavior to deliver even more meaningful value to every facet of a user's life and space.
Go to samsung.com