Right to Access, Accessibility design at samsung
All of life's relationships begin somewhere.
Liking or being attracted to someone, understanding someone, even loving another person begins
with mutual acceptance. And that is where we begin our story. Granted, we are not just talking about people.
Even with the products we develop here at Samsung Electronics, acceptance or in this case, accessibility is
a major factor in the relationship between man and machine. Having said that, in this highly advanced
IoT (Internet of Things) era there are those who are still left out and isolated.
We here at Samsung Electronics view it as our corporate responsibility to provide an equal experience for
all of our users and consumers. No matter their background or inabilities. It goes without saying that
developing a user experience for all is our primary design strategy. Although not readily seen,
our 'design for all' approach really manifests itself in our accessibility design.
Here are a few examples of how we make this a reality.
For the visually impaired, Even without eyesight, I can still take photos.
The crucial thing about accessibility design is not to think from the outside in. For example, to say that a blind person cannot use a camera to take photos is an unfounded stereotype.
Why, there are photography groups that consist of members who are visually impaired! It's for this reason that accessibility designers here at Samsung Electron- ics repeatedly take on the role of being visually impaired. Not thinking that the limitations they suffer hinder them from 'normal' sight. But that they simply view the world in a different way.
With the help of Voice Assistant, you can be told how many people are in the camera frame, where they are in that frame and take the shot with accuracy.
This voice aided function also works well with air conditioners and TVs. With air conditioners, braille is set near the core functions such as power controls and adjusting the temperature. The remote control buttons are vertically long for intuitive temperature and fan speed adjustments. With our TVs, we're continuously working with blind organizations around the world to modify and refine the voice activation functions called Voice Guide based on international standards.
For the hearing impaired, I can enjoy TV even though I can't hear.
As accessibility design is relatively a new field of design, under- standing the needs of those with disabilities takes a considerable amount of time.
Especially when you consider the fact that not one person ever has had the same disability. Coupled with that is the challenge of designing a product that can be used by everyone regardless of if they have a disability or not.
When watching TV, those with adequate hearing and those who suffer from a hearing disability can easily enjoy their favorite programs together without compromising the level of volume. Quite simply, a bluetooth headset can be set up for the hearing impaired while the TV speakers can be adjusted at nominal volume.
* Certain menu and function may not be available in all regions.
For the elderly, Even the elderly should use our products with ease.
For the elderly, legibility and ease of use are paramount in accessibility design.
Large, simple text is a given as well as the placement of controls for maximum visibility. Essential functions such as power controls are designed as physical buttons rather than on a touchscreen for intuitive touch interaction. Another key point is to place the controls in a position where height is not an issue. Even if you're in a wheelchair.
The Samsung Activewash displays each step of the washing process in a quick & easy to understand touch panel. Making it easier for the elderly to interact and adjust their wash setting on the touchscreen.
For children & young ones, Children should be safe at home, even when they're alone
For children, the perspective is a bit different.
If increasing access was the goal for the above instance safety and preven- tion are the main focus for young ones. Often, preventing children from accessing too many functions on our products, a household hazard in waiting, is the focus of our design.
With our refrigerators, the Control Lock setting can be set as the default. This prevents the spoilage of food after a young toddler has wrangled the controls.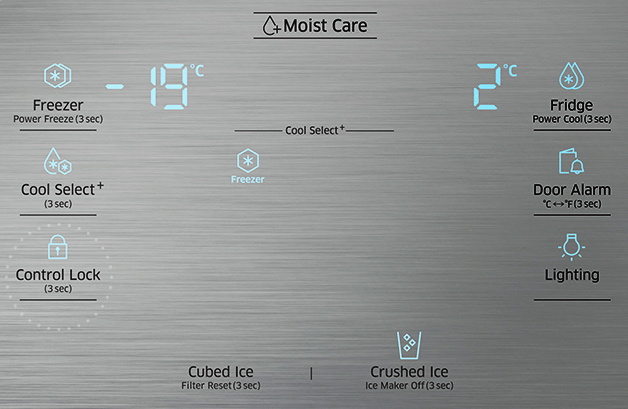 Technological advancement to benefit us all
As accessibility becomes more of a necessity, Samsung Electronics strides ahead to provide a technological experience that assists
you in your daily life, no matter what your situation may be. Especially those with disabilities or who are advanced in age, our
accessibility design focuses on even the most smallest of needs with an eye-level, inside-out perspective. It's not surprising that
this quiet effort has only recently seen the light of day. In March of this year, Samsung Electronics was awarded the Inclusive Society
Award by the RNIB (Royal National Institute of Blind People). An award rarely given to corporations. The Voice Assistant function of
the Galaxy series is top of the line in Android based smart devices. The Samsung Smart TV also received innovative product awards
in 2015, and 2016 at CES for their accessibility functions that well exceed US regulation standard.
Creating meaningful design where it is needed the most. Striving for that moment when all of our consumers
can engage with our entire line of products, equally. That is Accessibility for us here at Samsung Electronics.